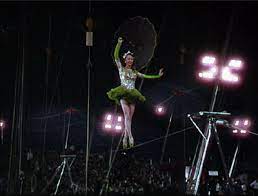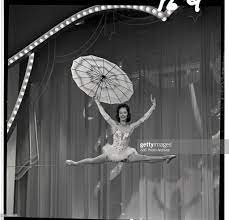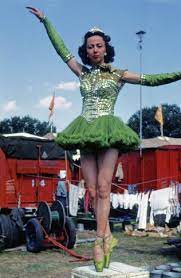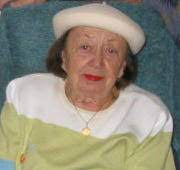 By Dominique Jando
A fourth-generation circus performer (through her mother), Lola Dobritch (1922-2008) was one of the great tight-wire artists of the mid-twentieth century, famous for crossing her wire on her toes like a ballerina—still a rare feat in her times—which, along with her natural grace and her use of a feather fan instead of an umbrella for balancing, won her to be advertised as "The Pavlova of the Silver Strand."
She was born Vera Dobrich—the correct English spelling of her name (1)—on October 14, 1922 in Sofia, Bulgaria, to Alexandre and Anna Dobrich. Alexandre and his brother, Lazar (1881-1970), owned the Royal Dobrich Circus in Bulgaria. "Lola", as Vera would become known (she was often featured as "Miss Lola"), learned all traditional circus disciplines from her parents and took ballet classes in Sofia, before specializing as a wire dancer. She made her debut on the wire at age ten, in 1932, in the family circus.
In 1946, Lola Dobritch married the German acrobat on unicycle Emil Goetschi (1921-2002), whose remarkable novelty act with brothers Carl and Hans was well known all over Europe, and she became part of the Goetschis' act while continuing to perform her own tight-wire act. The following year, 1947, the Goetschis signed a contract for their two acts with Ringling Bros. and Barnum & Bailey Circus, and went to the United States.
Lola Dobritch made her debut with The Greatest Show On Earth at Madison Square Garden in New York on April 9, 1947. She performed in a triple tight-wire display that included herself on ring one, the amazing Reverhos in the center ring, and The Joannides on ring three; all three acts were making their American debut. Lola and the Goetschis remained three seasons with Ringling Bros., playing dates in Europe or in America during the winter.
American Circus Star
Lola and Emil Goetschi eventually settled in the U.S., where they continued to perform in circuses, variety shows and nightclubs—notably in Las Vegas. In 1949, Lola's brother, Al Dobritch, had also come to the United States, where he became an influential circus agent, impresario and producer until his tragic death in Las Vegas in 1971. Lola, who took great pride in her brother's success, often worked for him.
In 1951, she returned briefly to the Ringling show for the filming of Cecil B. DeMilles's circus epic, The Greatest Show On Earth (1952), in which she was featured. The legendary film director must have impressed Lola: After DeMille had toured with the Ringling show in 1949 to prepare his movie, Lola nicknamed her son, Emil, Jr. (b.1948), "DeMille." (Emil Goetschi, Jr. would eventually join the Goetschis' unicycle act, before performing his own juggling and tight-wire act.) Lola also appeared on several television shows, in Europe and in the United States, notably on CBS's The Ed Sullivan Show and on ABC's Hollywood Palace.
After their retirement in Sarasota, Florida—the former home of the Ringling show, where they had settled soon after their arrival in the United States—Emil and Lola Goetschi managed several rental properties, which they had bought over the years, and stayed closely in touch with Srasota's large circus community. Emil Goetschi passed away in 2001. In 2003, Lola Dobritch was honored with a plaque on the Circus Ring of Fame, in St. Armands Circle in Sarasota. Her health began to fail in the last months of her life, and she passed away on November 17, 2008.
From the Sarasota Herald Tribune December 6, 2008:
Balancing on her toes, Lola Dobritch seemed to defy gravity as she walked across a tightrope wire no thicker than a pencil.
With only a fan of ostrich plumes or a parasol to help her keep her balance, she inched her way across the cable more than 20 feet long and 6 feet off the ground.
Audiences held their breath as the fourth-generation circus entertainer who studied ballet as a child did the splits on the wire and rode across it on a unicycle.
The longtime Sarasota resident, who was nicknamed "The Pavlova of the Silver Strand" during her four-decade career in reference to the famed Russian ballerina, died Nov. 17 at 86.
She had been in declining health in recent months, said her son, Emil Goetschi Jr. of Gibsonton.
Dobritch left her native Bulgaria in 1947 to join the Ringling Bros. and Barnum & Bailey Circus at the age of 24.
In addition to touring with the Ringling circus for several years, she appeared on several television shows, including "The Ed Sullivan Show" and "The Hollywood Palace." She also performed in the Cecil B. DeMille film "The Greatest Show on Earth," which was largely filmed in Sarasota and won a 1952 Academy Award for Best Picture.
In 2003, Dobritch was honored with a bronze plaque on Sarasota's "Ring of Fame" on St. Armands Circle alongside circus notables including legendary clown Emmett Kelly, aerialists The Flying Wallendas and animal trainer Gunther Gebel-Williams.
"The circus was her life, and she was quite honored to be among the great people who were in the circus," her son said.
Born Oct. 14, 1922, in Sofia, Bulgaria, Vera "Lola" Dobritch grew up around circuses. Her parents had a small circus in Europe and as a child she learned to walk the tightwire.
She was barely 10 when she combined her love of ballet with daredevil routines on the tightwire and began performing for audiences.
She married unicyclist Emil Goetschi in 1946 and they came to the United States the following year under contract with Ringling.
"Miss Lola" loved performing, despite the risks, her son said.
"She took some falls and had some broken bones, fortunately nothing too serious," he said.
After leaving the Ringling circus in the early 1950s, she and her husband continued to perform throughout the United States with other circuses, including the Al Dobritch International Circus owned by her brother. They also performed in nightclubs.
At one point, the couple's young son joined their three-person unicycle act before he branched off with his own tightwire and juggling act.
After retiring from performing, Dobritch and her husband bought and managed several rental properties before her husband's death in 2002 at 81.