The Circus Ring of Fame® recognizes those persons who have made a significant contribution to the art and culture of the circus over the span of a career. With over 150 inductees from around the world, the "Ring" began in 1988 as a way to honor world famous circus arts performers and the rich circus heritage of the Sarasota area. Each year honorees are nominated by the public and voted on by former inductees, historians, scholars and knowledgeable members of the global circus community.
Each inductee is honored with a bronze wagon wheel plaque, recognizing their contribution to circus arts and culture and their sponsor. The annual Circus Ring of Fame® ceremony is a veritable who's who of circus artists, executives, fans and members of the greater circus arts appreciation community, who gather to honor their peers. The Circus Ring of Fame® graces a central park located at St. Armands Circle in Sarasota, Florida. There, visitors and locals alike stroll past decades of circus history, reading the plaques and conjuring up childhood memories of circus greats such as famed animal trainer Gunther Gebel-Williams, astounding aerialists the Flying Wallendas and Lillian Leitzel, and timeless clowns Lou Jacobs and Emmett Kelly.
Also of note, the "Ring" includes leaders of the circus arts industry such as P.T. Barnum, The five Ringling Brothers, Irvin Feld and Kenneth Feld, Guy Laliberte, Prince Rainier of Monaco and many others. The list goes on and on!
How and Why the Circus Ring of Fame® Came to Be
In mid 1985, Sarasota, Florida Convention and Visitor Bureau director, Larry Marthaler, was invited by Mayor Bill Kline to join a group of local area business leaders exploring ways to promote the approaching centennial celebration of the city by possibly employing a circus theme. Sarasota was the winter home of Ringling Bros. and Barnum Bailey Circus, as well as home to several other circuses and many circus families. After weeks of meetings with the committee and interested parties, everyone was running out of suggestions. Most of the ideas being reviewed were too ambitious and required extensive outlays of up-front money. Then Larry and his wife, Mary, were watching TV over Thanksgiving weekend and the evening news showed an induction into the Hollywood Walk of Fame. Larry said "that's it," and the idea was conceived for a "Circus Walk of Fame" in Sarasota. He shared the idea with the committee, who liked it, but didn't want to infringe on "Hollywood Walk of Fame."  Therefore, the Circus Ring of Fame® was chosen.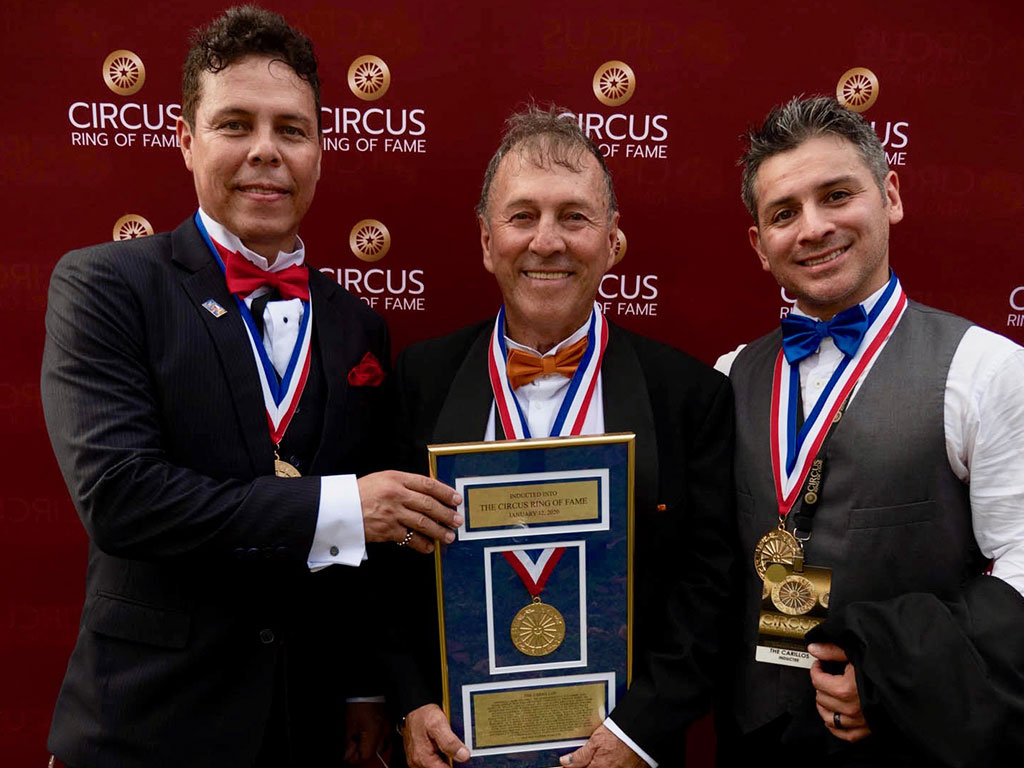 Prominent Sarasota artist, Frank Hopper had done a piece of artwork for the Centennial, so, he was brought in to help design the wagon wheel symbol along with circus historian John Lentz, for research and authenticity. The initiative was approved in 1986 and the first induction was in April of 1988.
The Circus Ring of Fame® Foundation became independent from the convention and visitor's bureau in 1993, when it incorporated as a non-profit 501 (C)(3) organization.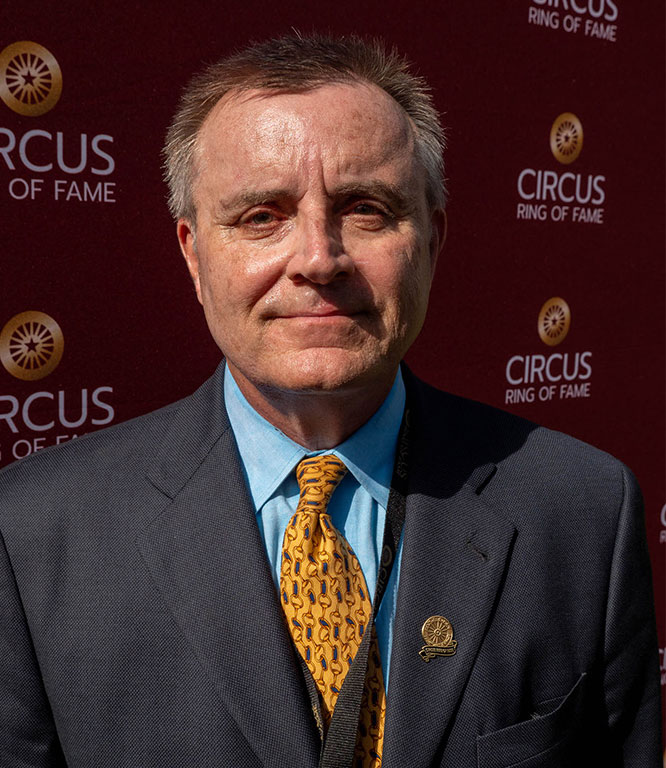 What It Means to Be Inducted Into the Circus Ring of Fame®
To realize the magnitude of the Circus Ring of Fame®, one must first understand the concept of 'six minutes of perfection.' Six minutes is the average length of a circus artist's presentation. Dedicated to their craft and steeped in generational tradition, they spend a lifetime developing and rehearsing routines so that when they perform before a live audience the result is perfection. Whether it is thrilling high wire artistry, elegant flying trapeze, gymnastic tumbling routines or being shot from a cannon, the goal of a circus artist is perfection. No one enters the circus arts to become wealthy. They do it for the pure love of performing and bringing smiles to patrons of the art form. Their reward is the applause and the satisfaction of knowing that, for a brief moment in time, their six minutes of perfected craft results in a moment of joy for children of all ages.
After decades of performing before millions of patrons, they seek recognition for a job well done. While the general public admires circus artistry in numerous productions across the globe, only circus artists and knowledgeable industry professionals fully understand the dedication and difficulty in creating 'six minutes of perfection.'

Chairman/CEO,
Circus Ring of Fame® Foundation
Board of Trustees
Executive Committee
Nominations Committee
Fundraising Committee
Communications Committee
Governance and Administration
Awards Ceremony Event Committee
Circus Advisory Council
Board of Trustees
Bill Powell – Chair
Mich Sauers – Vice Chair
Joan Galvin – Board Member
Mike Pender – Treasurer
Brian Liddicoat – Past Chair
Kay Rosaire – Board Member
Heidi Herriott-Koch – Board Member
Kenneth V. Wachter- Board Member
Steve Cook – Board Member
John Zamoiski – Board Member
Deborah Walk – Secretary
Cedric Walker – Board Member
Chris Berry – Board Member
Laura Van der Meer – Board Member
Norma Fox – Ex Officio
Kenny Dodd – Ex Officio
Ian Garden – Ex Officio
Executive Committee
Nominations Committee
Fundraising Committee
Communications Committee
Governance and Administration
Awards Ceremony Event Committee
Circus Advisory Council