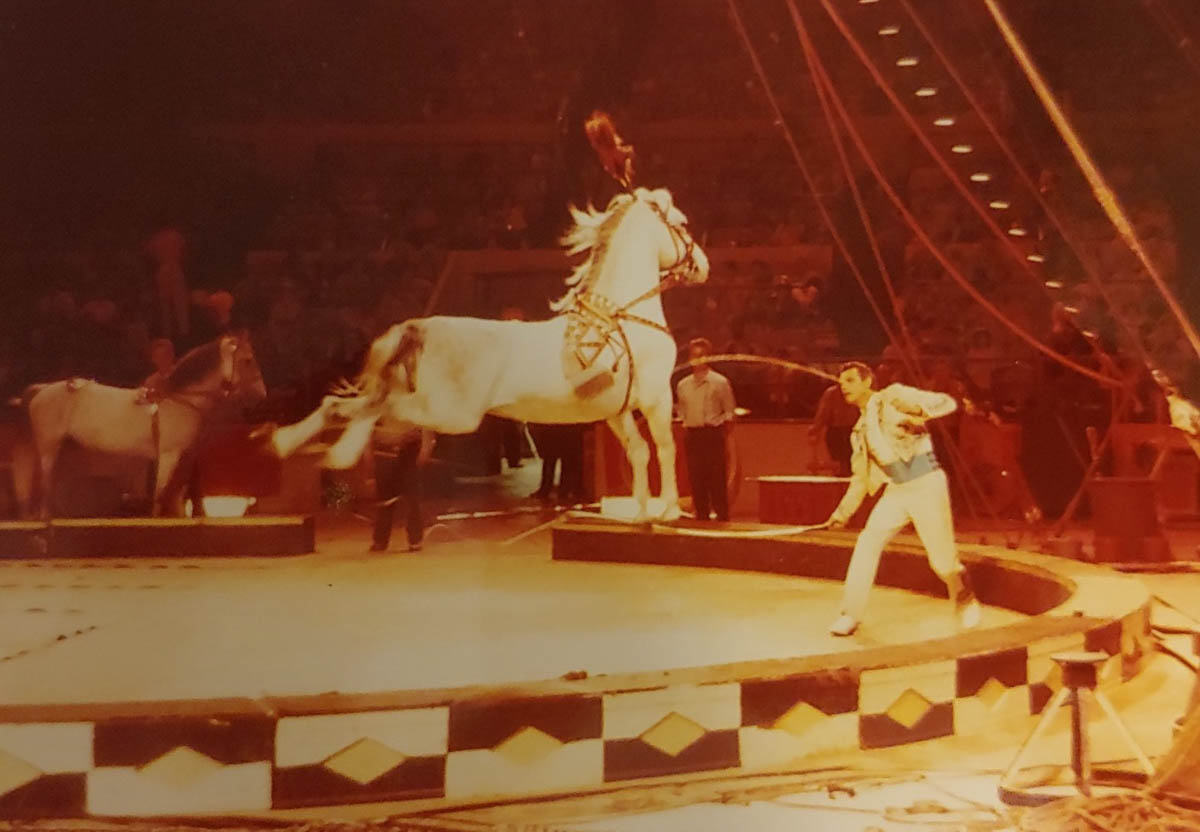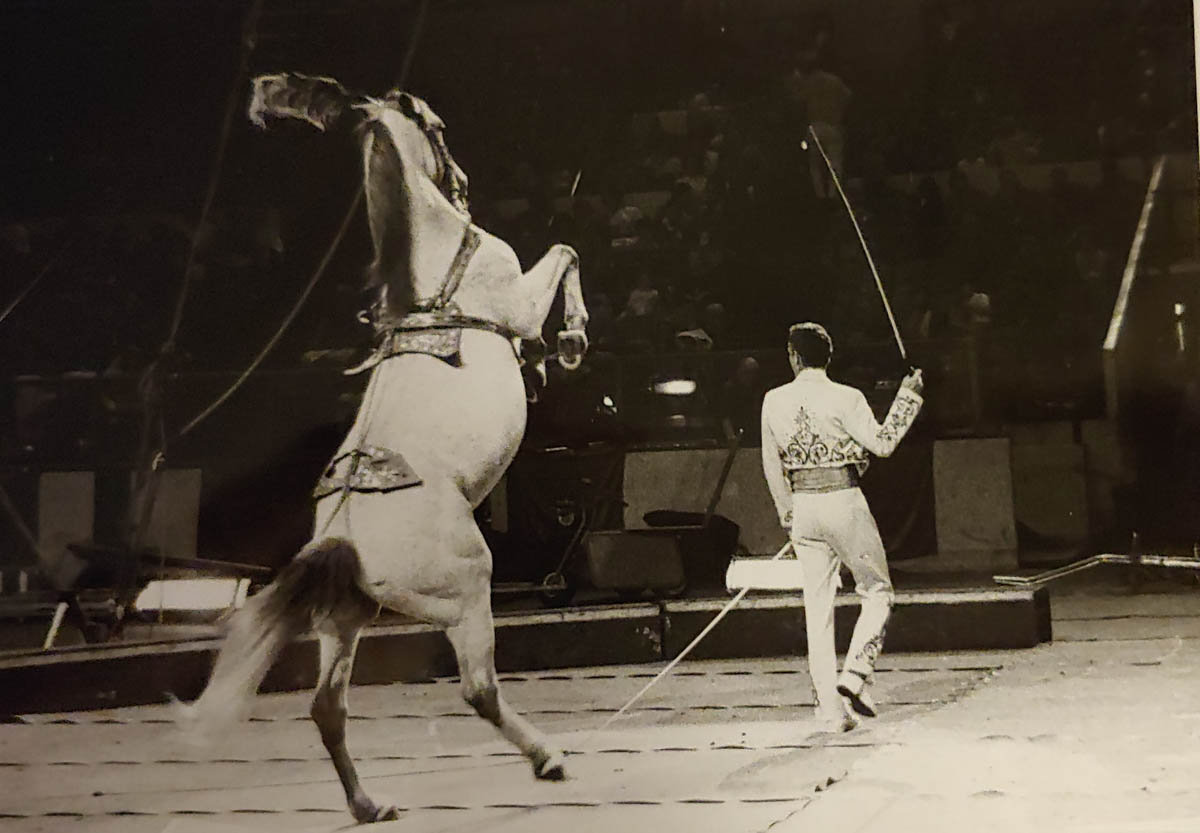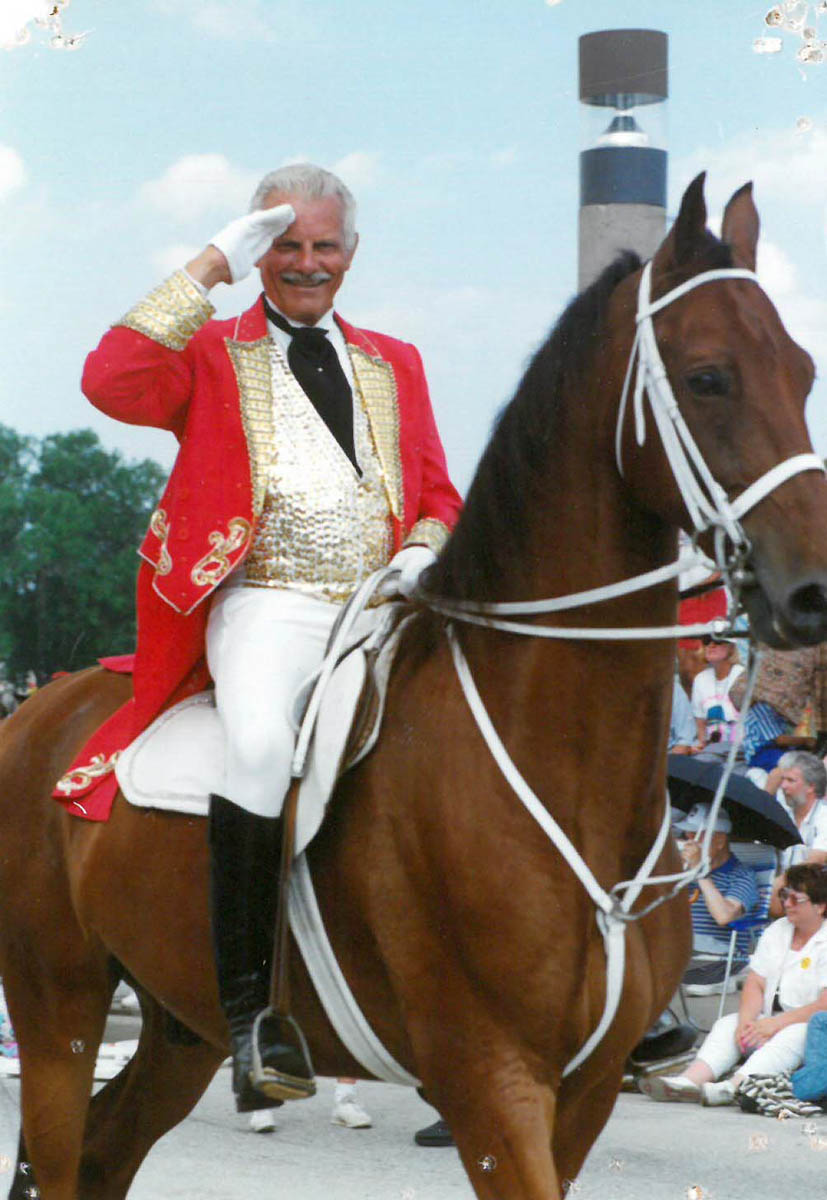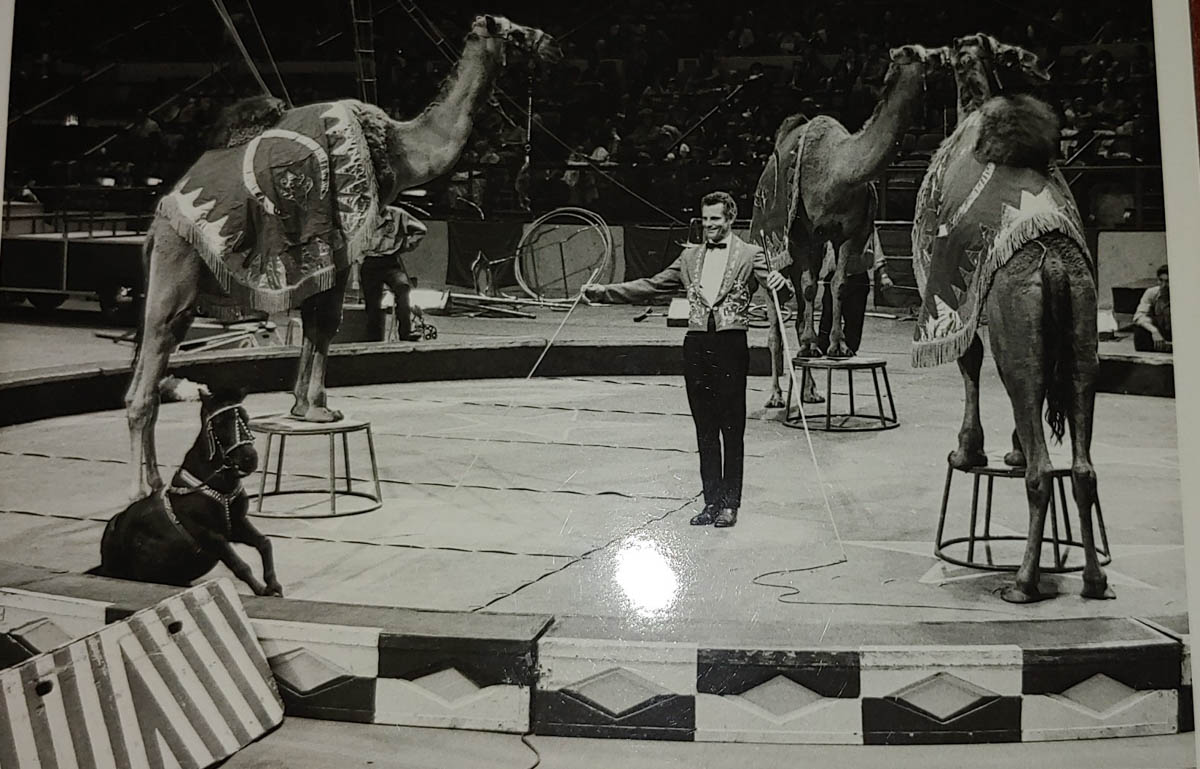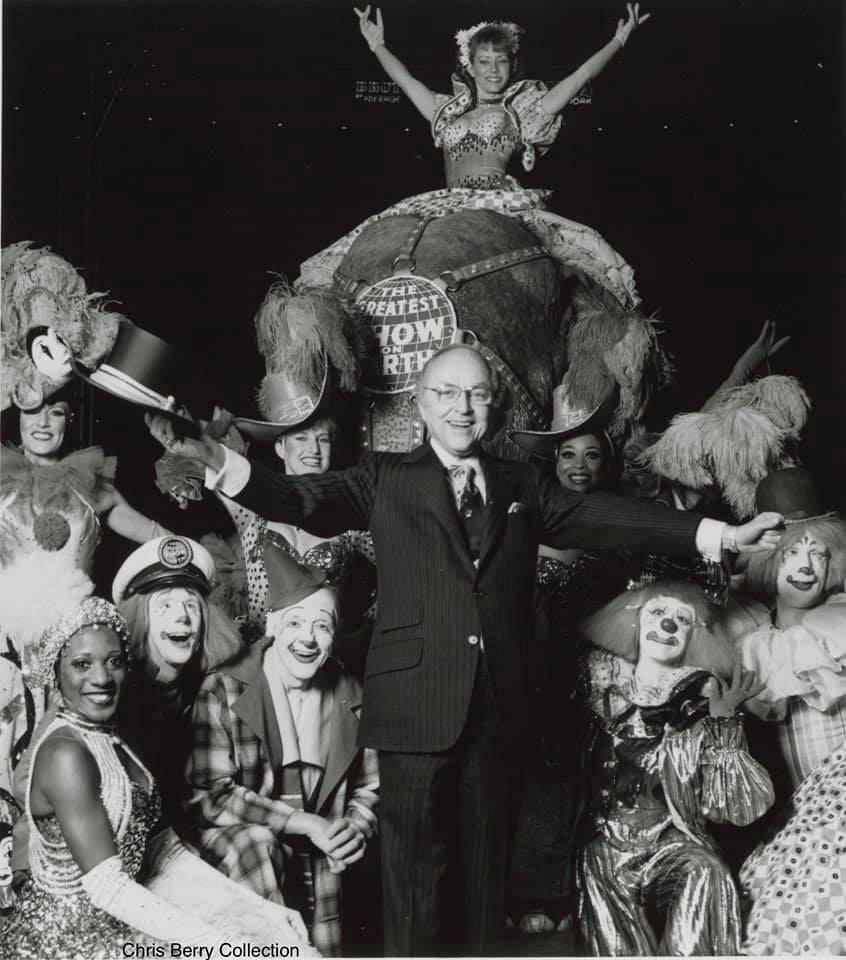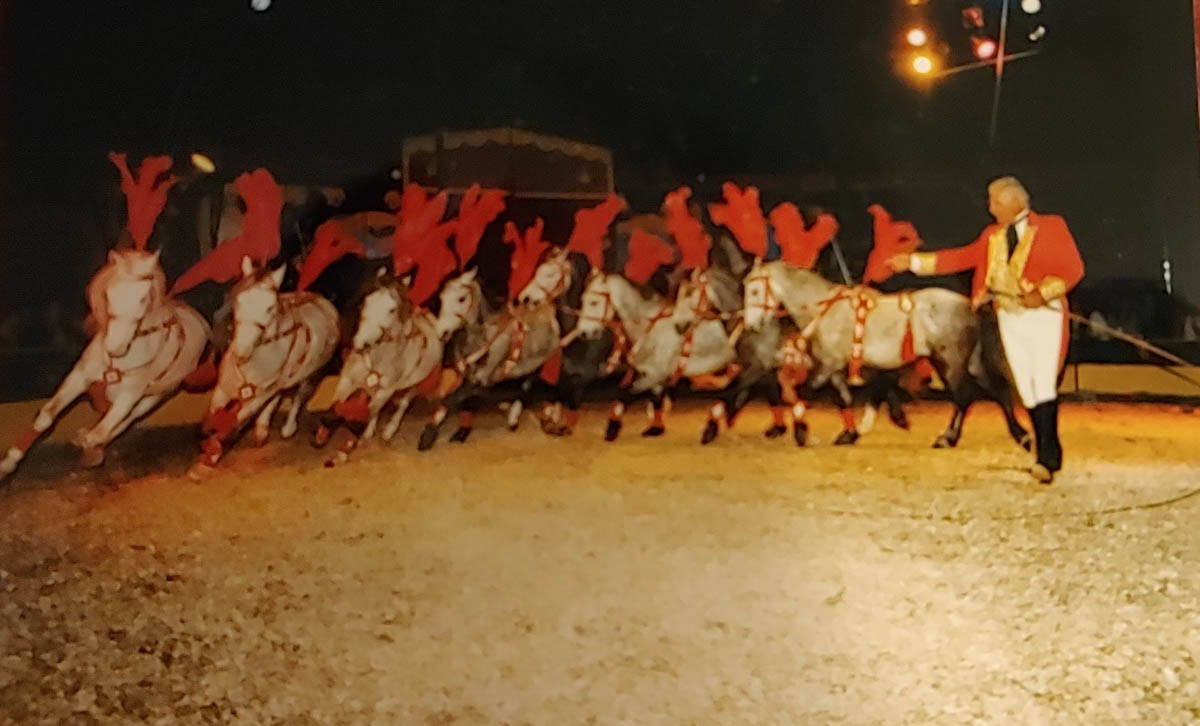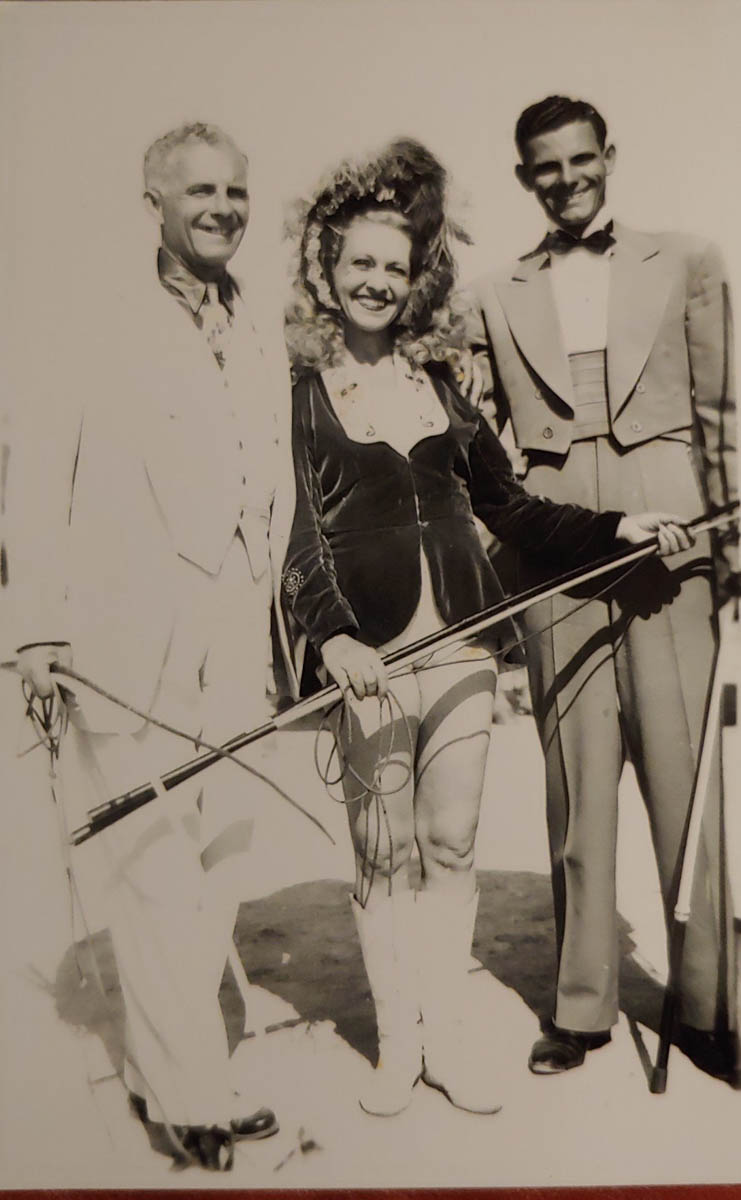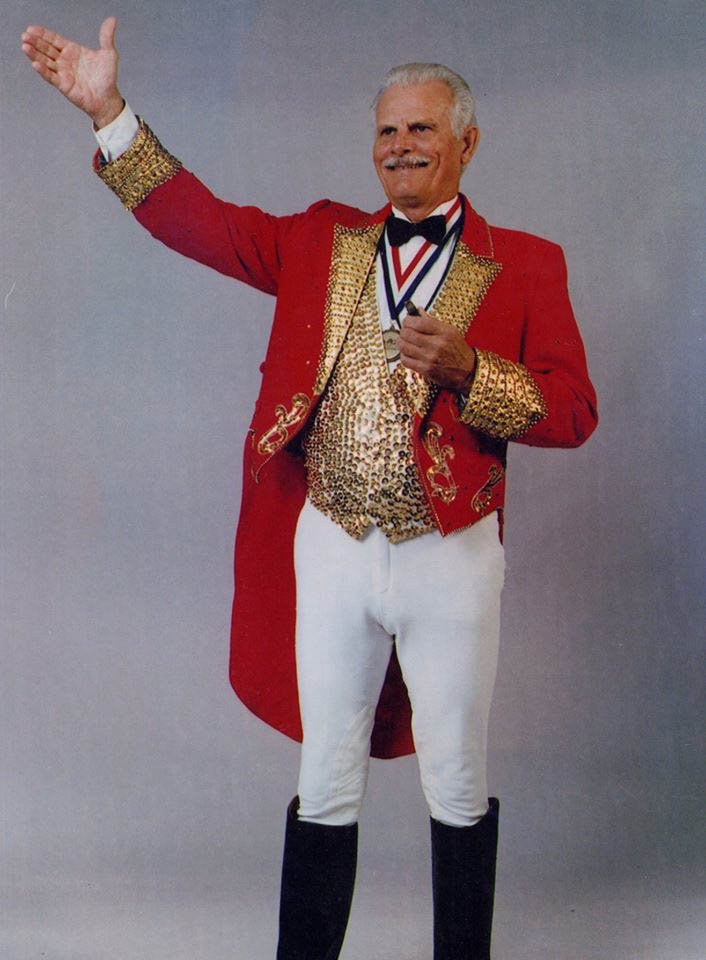 John Milton Herriott John Herriott has had a multiplicity of roles in his
professional and personal life. He is held in high regard by all the know
him. He is a skilled trainer and an accomplished Ringmaster and a respected
and seasoned performer. He also, unexpectedly, is an able poet dedicated to
circus themes. Near all his life he has been in or near the circus business,
likely stemming from his father Milt Herriott's successful career
as a multi-talented trainer and circus manager. Additionally John is an
accomplished circus historian who frequently is recruited to speak or manage
a presentation on some portion of the business. He takes great pride in his
four daughters, all of whom have joined in some part of the business.
His memory,
despite his age, is flawless. Mary Ruth, John's wife of more than
sixty years, herself a skilled performer, was the family's agent,
money manager and seamstress. Sadly she became paralyzed in an accident while
training one of her horses in 2004. Since that event John has become a
caregiver. He occupies any spare time he has with his children and
grandchildren's lives and careers.
His skill as a trainer of
principally hoofed animals was often used as he created animal acts which he
either used or sold. Often his children would require a new act or change in
their present presentations, which he would create as an addition and
appealing change for them. He, in his working days, was often called on to
build an act for various shows and showmen. Horses, his specialty, were their
foundation. He has created four, six and twelve horse liberty acts using all
sizes and types of animals from Friesians to miniature horses. His mixed
animal acts, usually involving camels, zebras, llamas, miniature horses are
popular and often requested. Single horse presentations, High School or
dressage behaviors, were all requests he could oblige.
His career, ranging
from Mills Bros. to RBBB to Royal Hanneford has given him and unusual diversity.
Additionally he spent seven year at the Circus World Museum and in addition
to his frequent performances, he helped then director C.P. Fox to fashion
many of the components and flavors of the newly created Great Circus Parade,
which were still being used by that event in the nineties. He was called on
by the National Zoo in Washington D.C. to consult on various problems and
events with its then director. He participated in the Circus themed
presentation by the Smithsonian. John and Mary Ruth Herriott and the circus
dynasty they produced can be considered among the finest and most respected
members of the nationwide show folk's community. Few can claim
similar time, experience and diversity that they have. They are considered,
by knowledgeable students of the subject, as one of the circus
industry's most significant participants.
In 1977, San Diego
newspaper The Union , quoted John saying "If I had to pick one
scene that captures the essential element of circuses, it would be a girl on
a circus horse. To me, that's the circus."One of his
circus poems… "What is the giant of thrill and
laughter?" His first love, the circus horses, comes after And,
listed on top, ahead of all circus nouns: Comes this line saying :
"Its elephants and clowns…"