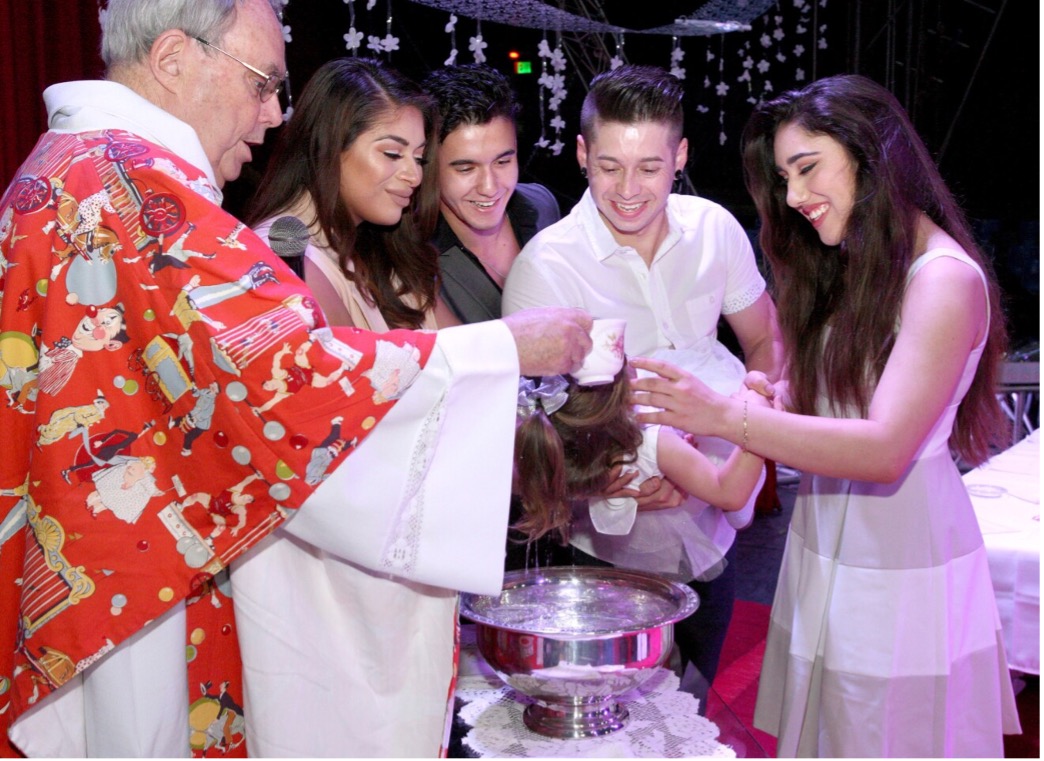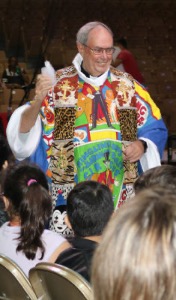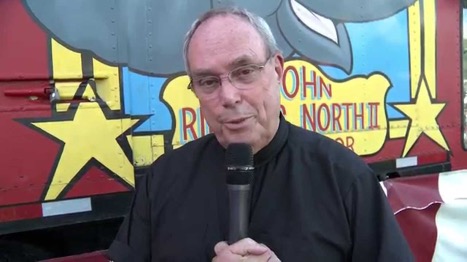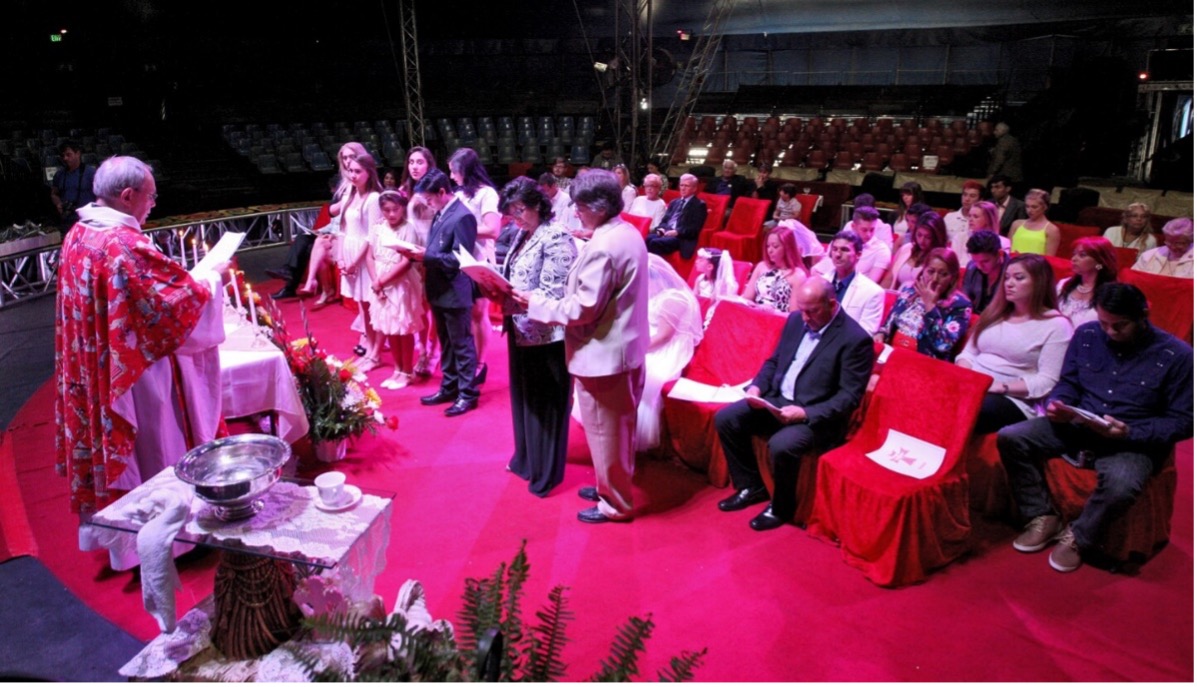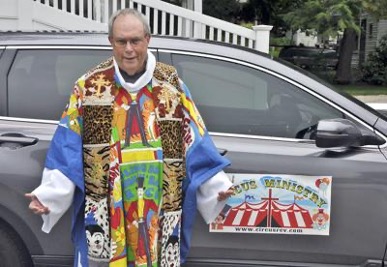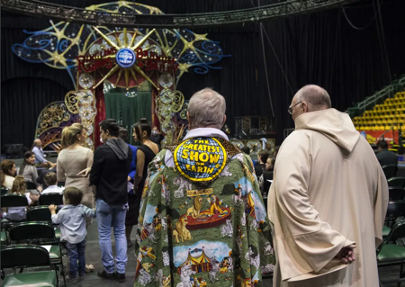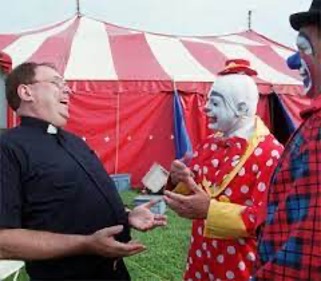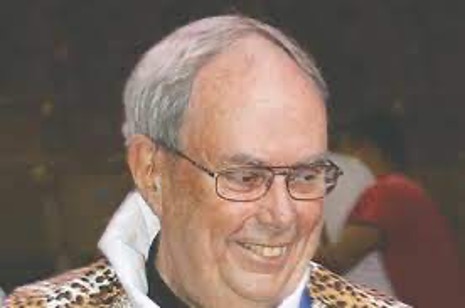 By Bera Dunau
The Rev. George "Jerry" Hogan was 8 years old when he first attended Ringling Bros. Barnum & Bailey Circus. And he was there on May 21 for the show's final performance, as the American institution closed up for good.
"Like everyone else I had to deal with my grief," said Hogan, 71, who has dedicated his life to serving those who make their living in the circus.
Hogan works for the U.S. Conference of Catholic Bishops as the National Circus Chaplain, a position he has held for the last 24 years.
"I'm in charge of every Catholic in every circus in the United States," he said, noting there are similar ministries for carnival workers, bull riders and stock car drivers.
Hogan splits his time between Foxboro and Sarasota, Fla., though he is frequently on the road ministering to different circus troupes and performers. However, as a priest in the Archdiocese of Boston, Hogan has been assigned a number of other communities as well, including Foxboro three times before.
"I go where they need me," Hogan said.
Prior to its closing, Hogan spent much time with the Ringling Bros. circus, which operated two performing companies that each employed hundreds of people. He related how, this past January, word came down that the circus would be closing.
"I was in Orlando at the 'Red Show' and everything was going good," Hogan said.
Later that day, Hogan was back at his condominium in Sarasota, watching the Patriots/Texans playoff game when he learned that both shows had a meeting scheduled. His phone then began to blow up with the news that Ringling Bros would be closing down.
Hogan works with a number of different priests and nuns in circus ministry, and they all had their hands full in the months leading up to the closing.
"We did a lot of work getting people jobs," Hogan said.
They also did a lot of grief support with circus employees, a role Hogan has played numerous times over the years.
Hogan said that an estimated 60 to 63 percent of circus people in the United States are Catholic. But he noted that his work as circus chaplain is ecumenical, and that he partnered for some time with an Episcopal priest.
As chaplain for Ringling Bros., he was responsible for those of all faiths.
"I even had to tell the Muslims when Ramadan began," he said.
Much of his work with circus folk involves talking with people in confidence outside of any sacramental rites, and Hogan described being in the circus as living as a big family.
"You're doing a lot of counseling," he said. "A lot of time listening to people's stories."
Hogan also had to deal with the aftermath of a number of tragedies while at Ringling Bros., including a deadly train derailment, a big cat attack on one of their trainers and an aerial silk performer dying after a fall.
The yearly blessing of the train was a longtime tradition for Ringling Bros., a ceremony immortalized in the Oscar-winning 1952 movie "The Greatest Show on Earth."
It was only when Ringling Bros. closed that Hogan allowed himself to fully grieve, noting his reaction to seeing You Tube clips of old performances.
"That's when I break down," he said.
When he turns 74, Hogan will be eligible to retire as a priest. However, he intends to stay in the position of National Circus Chaplain for quite a bit longer.
"'Till I die," he said.
Hogan is also chair of the Circus and Traveling Shows Retirement Project, a nonprofit that runs Showpeople's Winter Quarters, a trailer park for retired show people.