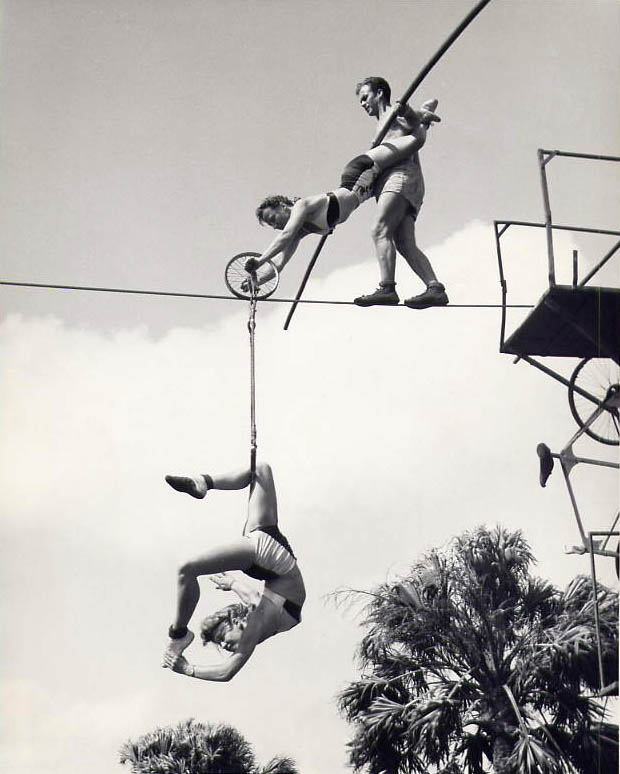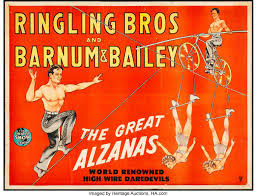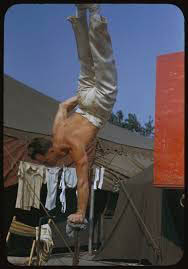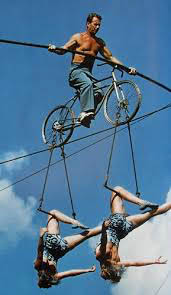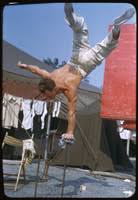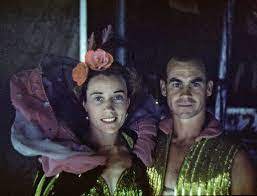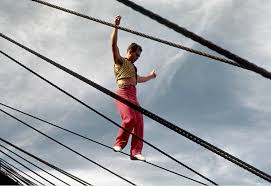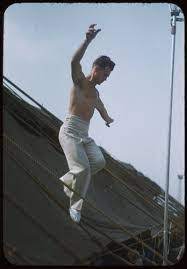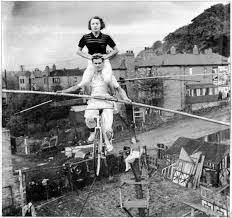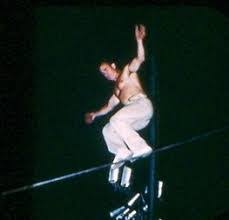 By
Dominique Jando
Harold Alzana was, from the late forties to the mid-sixties, a
star fixture of Ringling
Bros. and Barnum and Bailey Circus. His daredevil
manner—working on the high wire without a balancing pole and at
high speed, which contrasted with the traditionally slow, seemingly careful,
approach of the great high wireacrobats, such as The
Wallendas, that had preceded him—inspired many of the
high wire acts that are seen today.
He was born Harold Davis on September 19, 1917 in Maltby, a small
mining town east of Sheffield in South Yorkshire, England. His father,
Charles, worked there as a coal miner, but he was also an amateur acrobat,
and he began training his children (Harold, his brother Edgar, and their
sisters Hilda and Elsie) in his backyard, where he had installed a tight wire
two feet off the ground.
Charles's training got good results: At age six, young
Harold made his performing debut in local fairs and festivals. But this was
just fun; when he reached fourteen, Harold Davis, like most young men in
Maltby, followed in his father's footsteps and began working as a
coal miner. In 1941, he married his sweetheart, Minnie. World War II was
raging, but Harold and his siblings never stopped practicing and improving
their high wire act.
From The Coalmine To The Big To
The war over, Harold Alzana decided to leave the darkness of
Maltby coalmines and tempt his luck in the circus spotlights: It was social
climbing in every sense of term! His break came in 1946, when impresario
Clem
Butson, then producer of Blackpool's Tower
Circus, gave "The Sensational Alzanas" (as Harold and his
siblings had named their act) a contract for the summer season. The highlight
of the act was Harold crossing the wire on a bicycle with his sisters hanging
from a trapeze suspended under it.
If it was certainly, from the audience point of view, a
spectacular finale, it was not in actuality much of a trick since the trapeze
provided Harold's bicycle with a counterweight: The more at risk
were actually Hilda and Elsie. But Harold's solos on the wire were
another matter altogether, and this didn't fail to impress one of
John
Ringling North's European talent scouts. Johnny North
immediately saw star potential in Harold Alzana, and the act was booked for
the 1947 season of Ringling Bros. and Barnum & Bailey Circus,
The Greatest Show On Earth.
Thus, the Alzanas moved to the United States, minus Edgar, who
decided to stay in England. (Edgar would eventually create his own high wire
act, The Derricos.) Their first appearance at the Madison Square Garden in
New York, where The Greatest Show On Earth traditionally
began its season, was an unmitigated success. Harold started his act climbing
a wire at a 45º angle up to his platform, without the help of a
balancing pole. His various crossings with his sisters were interspersed with
his fast-paced solos, notably a high-speed tempo rope skipping with carefully
staged near-misses. Like his ascent to the platform, Harold's solos were all
performed without balancing pole or safety device.
Solo Star Performer
Staging the impression of danger is common
circus practice, but it doesn't preclude the reality of
danger, whether it is or not apparent to the audience. Harold
Alzana had his share of accidents, including one in his very first season
with The Greatest Show On Earth—a forty-feet
fall with his sister Hilda, in which both performers were injured.
Eventually, Hilda and Elsie decided to retire from the act, and Harold
continued to work as a solo performer, with increasing
success.
Harold Alzana remained with Ringling Bros. and Barnum &
Bailey until 1964. During that time he returned to Europe only twice: The
first time for the Christmas season of 1949-50 at the Harringay
Arena in London; the second time in 1963, with The
Greatest Show On Earth, in a short-lived European tour that was a
disappointment and was quickly aborted—although Alzana's
personal success was as big in Europe as it had been in the United States. He
made a last appearance in Europe in 1966, in the hit British television show,
Hippodrome (known in the United States as Live
From The Hippodrome).
Harold Alzana continued to perform sporadically until the early
1970s, and then retired to his home of Sarasota, Florida, America's
"Circus Capital." But he kept a wire rigged in his backyard, and
continued to practice regularly, well into his eighties. In 1991, he was
induced into the International
Circus Hall of Fame in Peru, Indiana. Harold Alzana passed away on
February 23, 2001, leaving the souvenir of one of the greatest high wire
performers of all times.