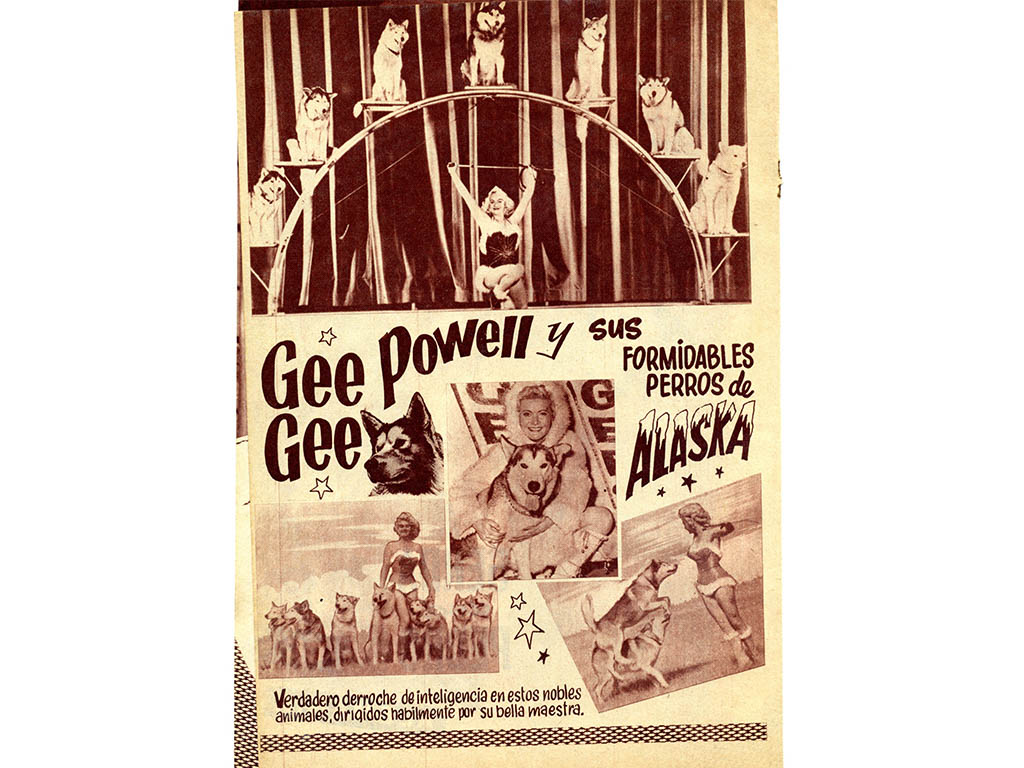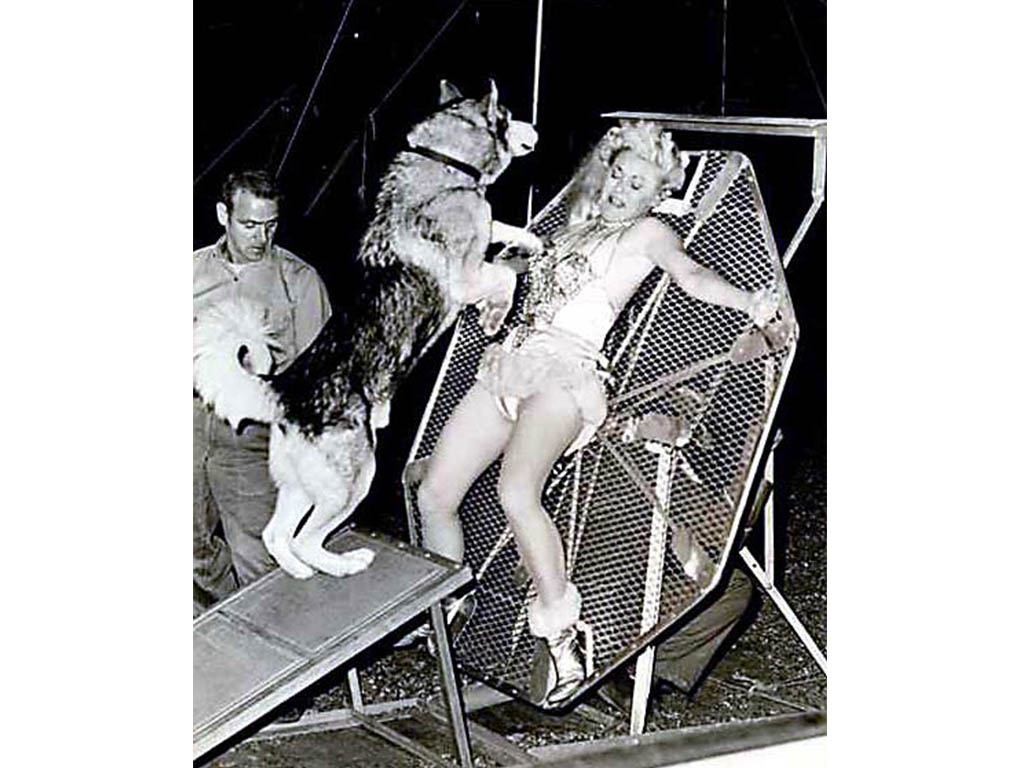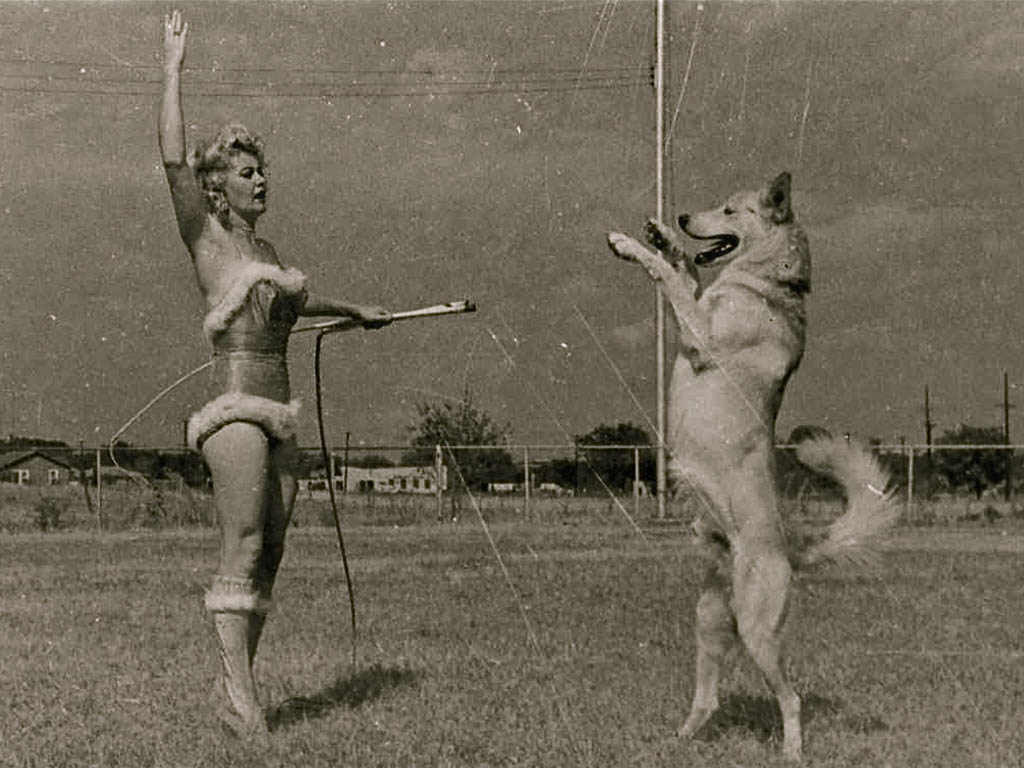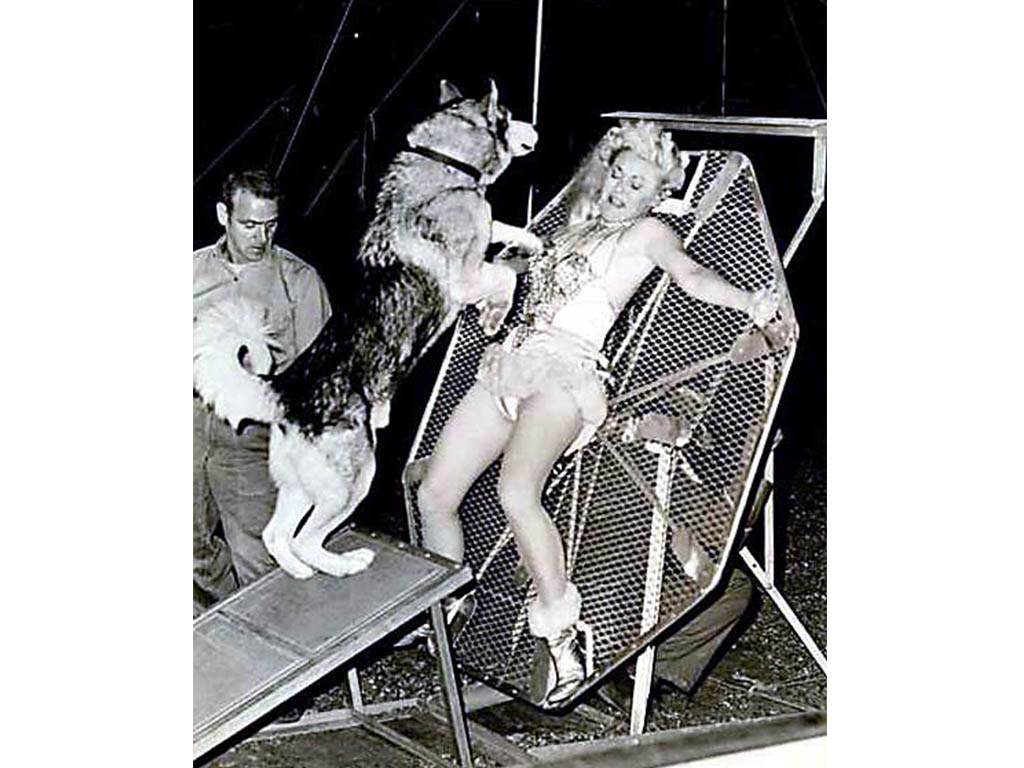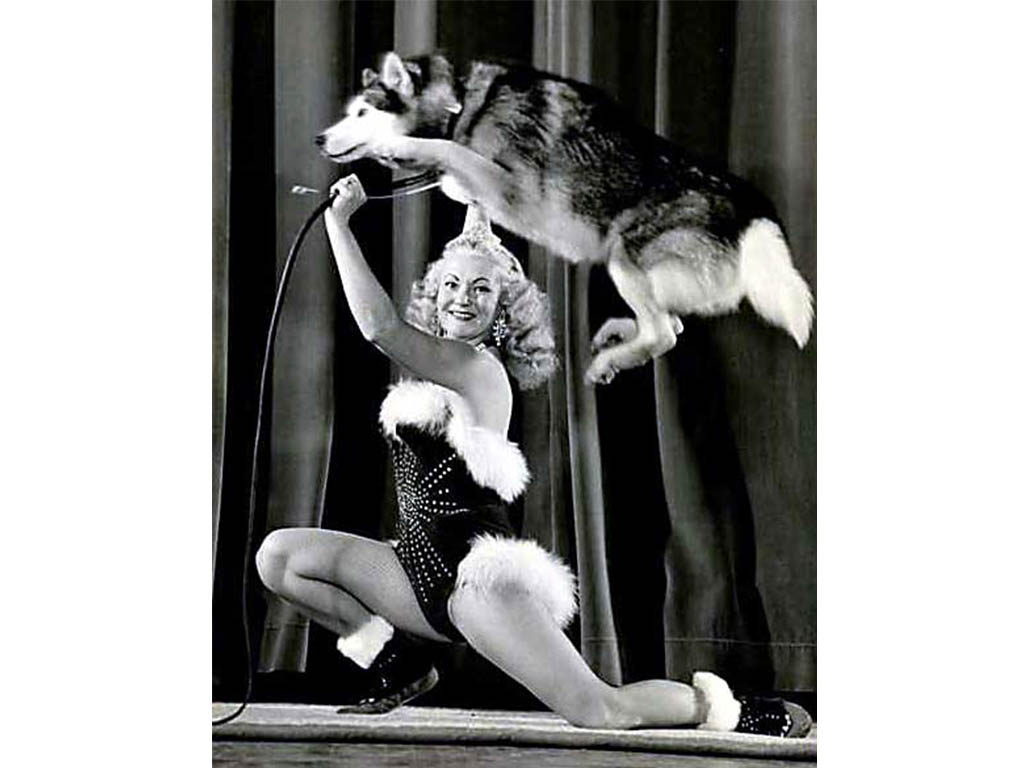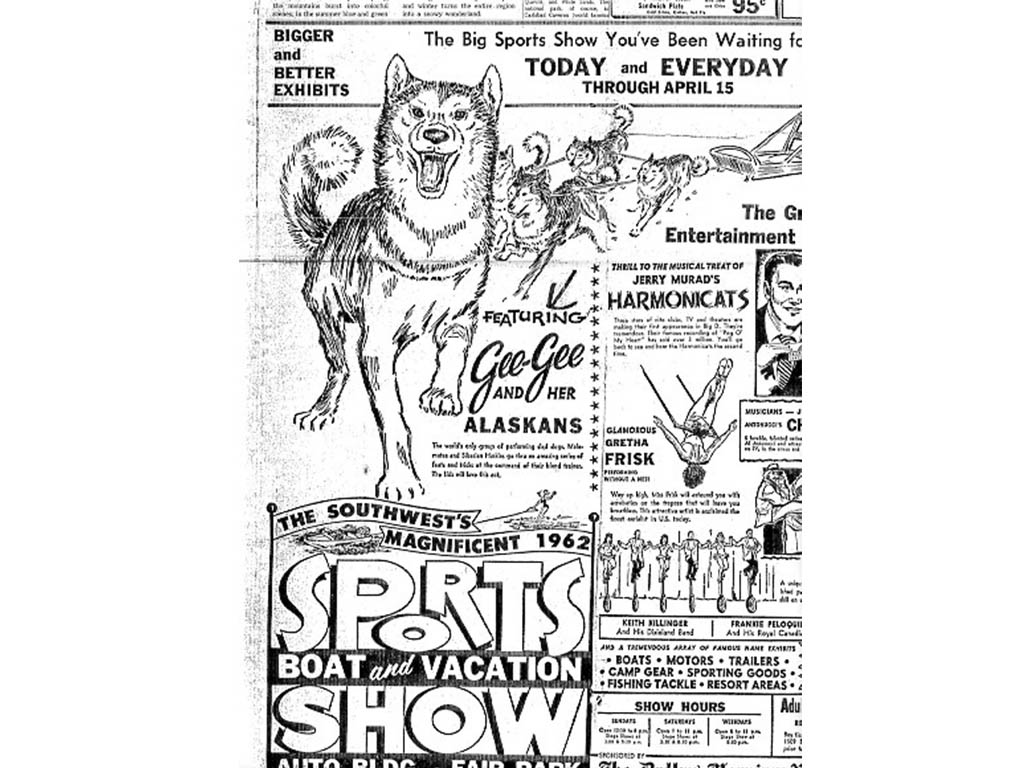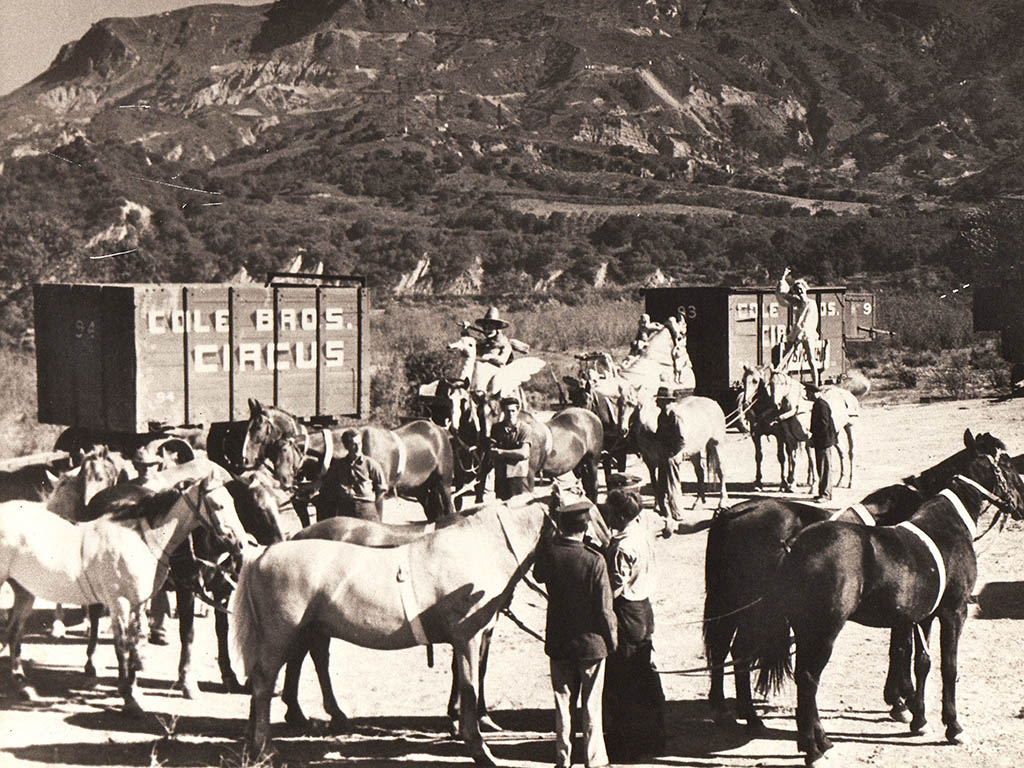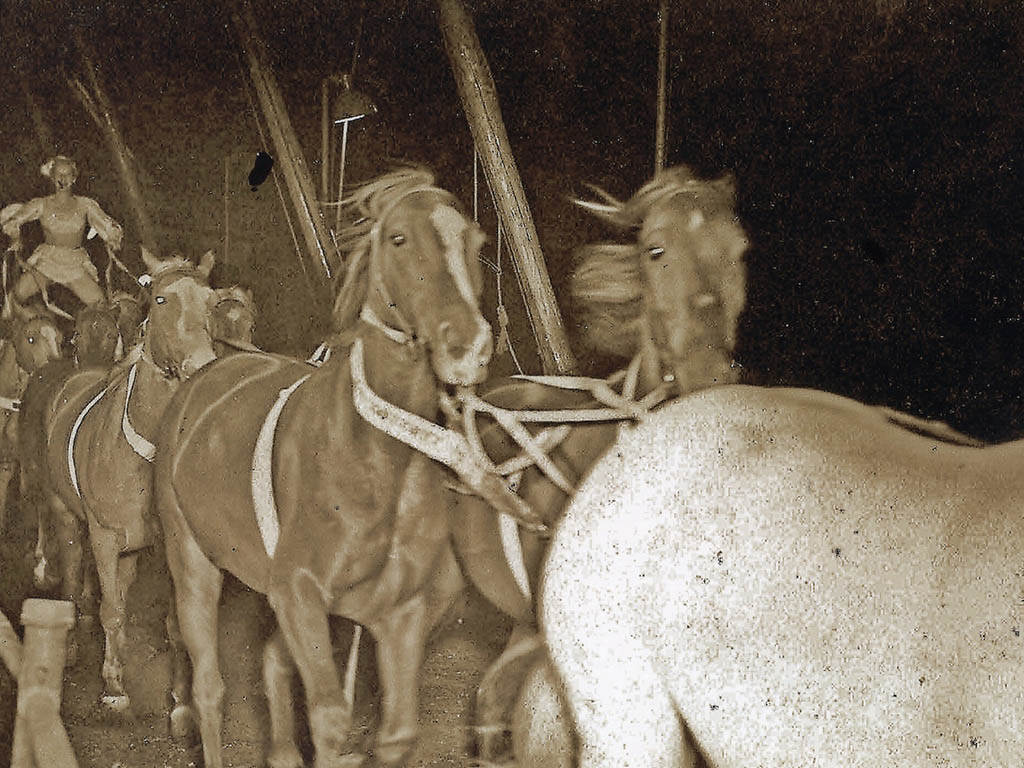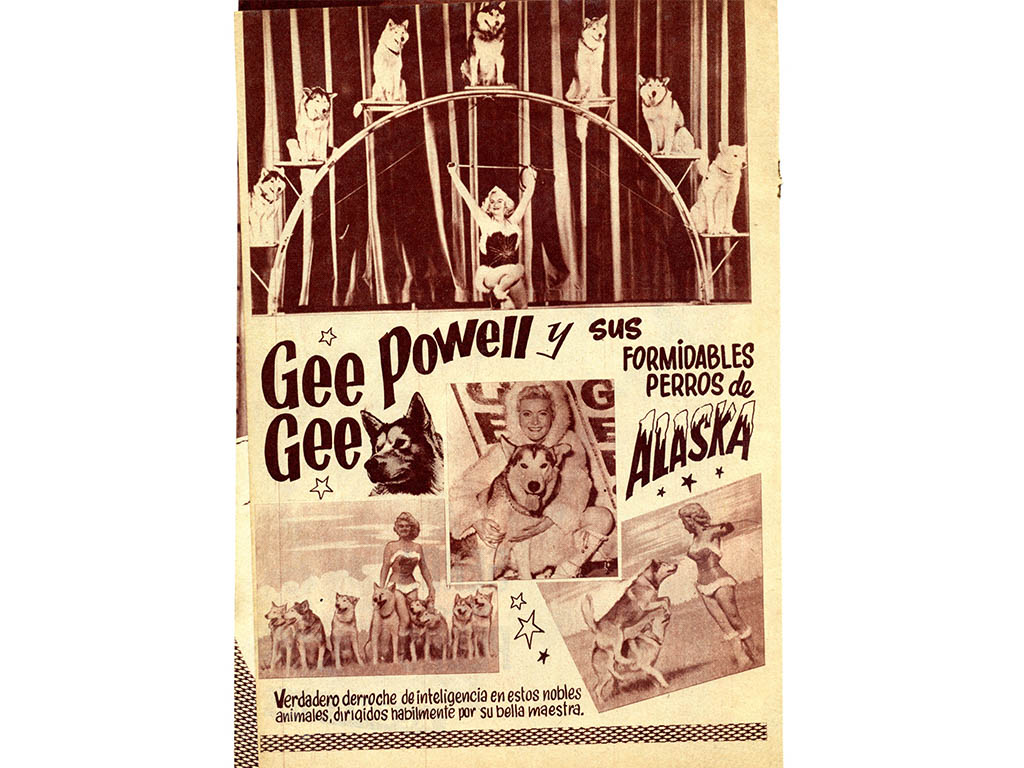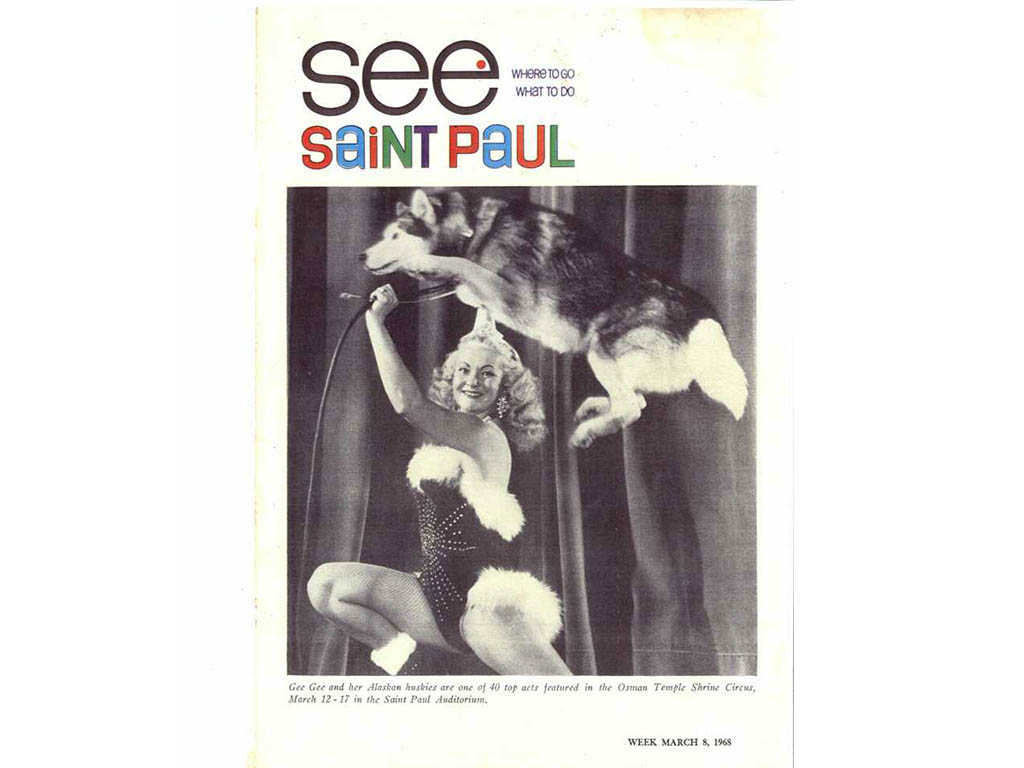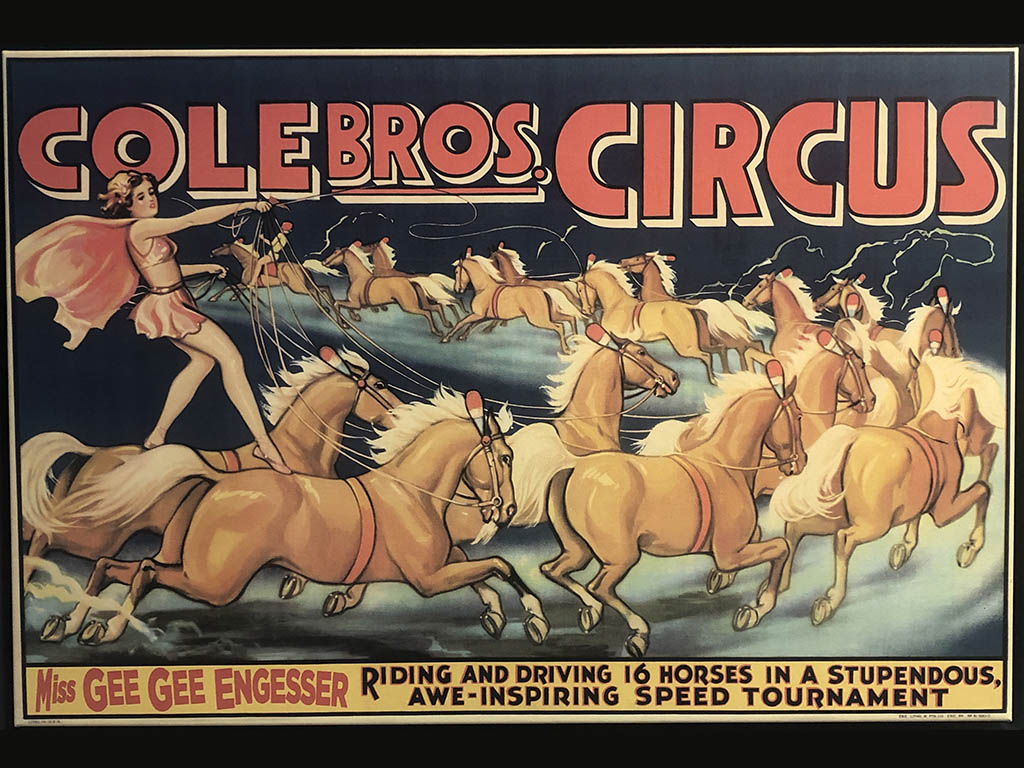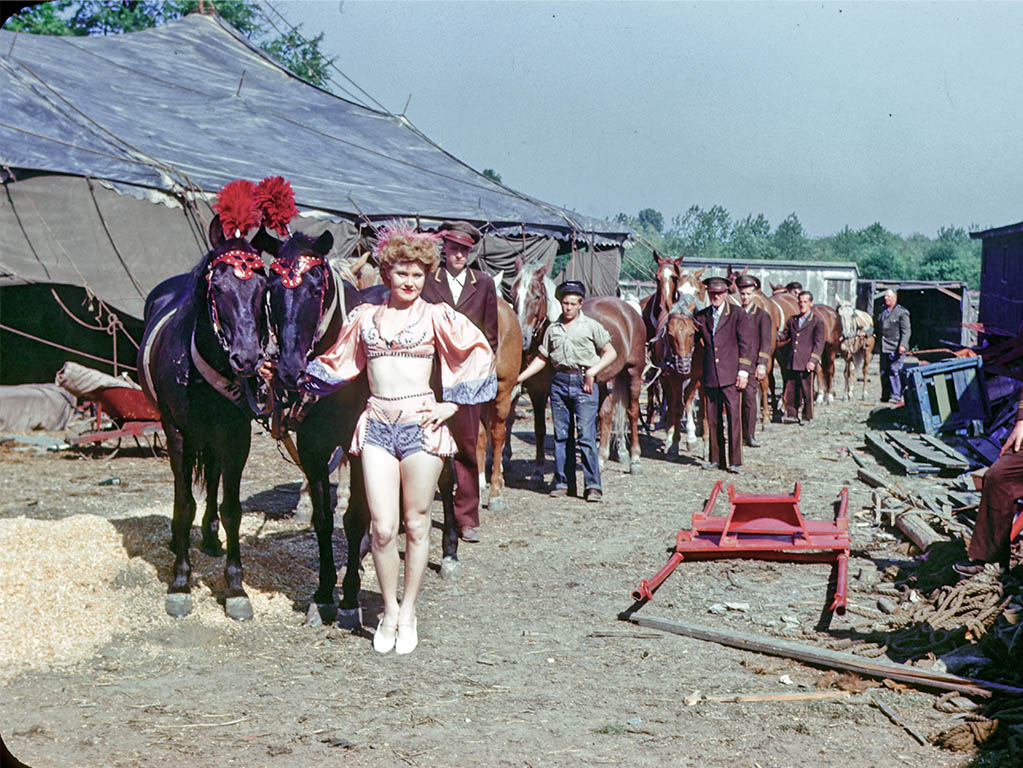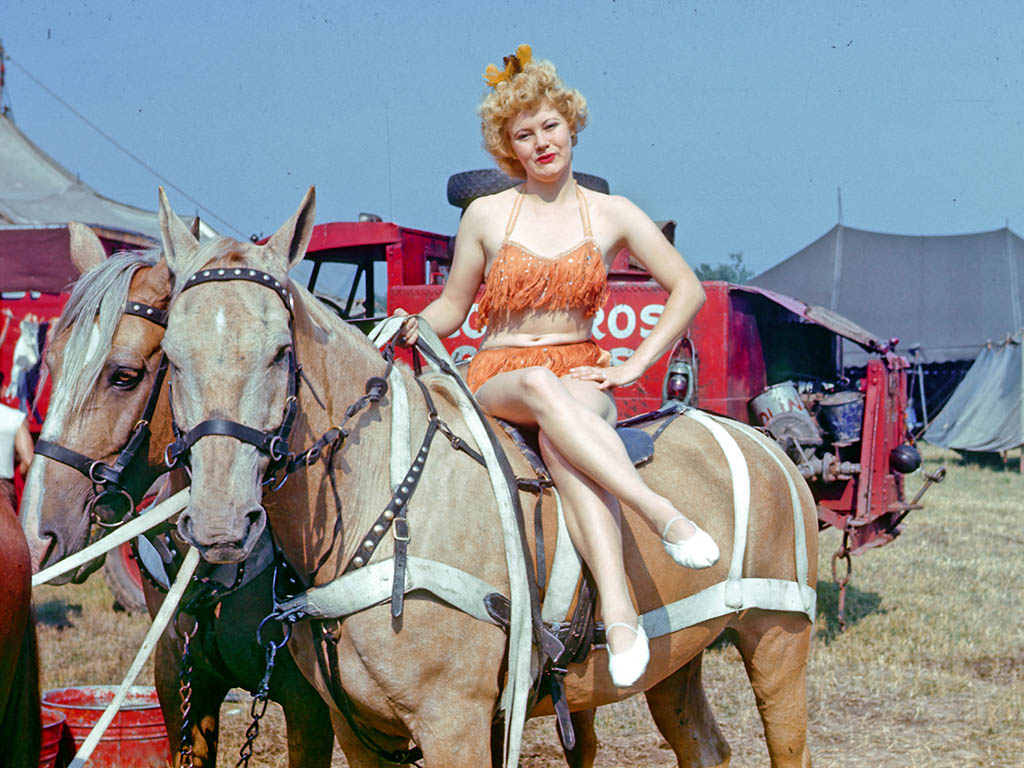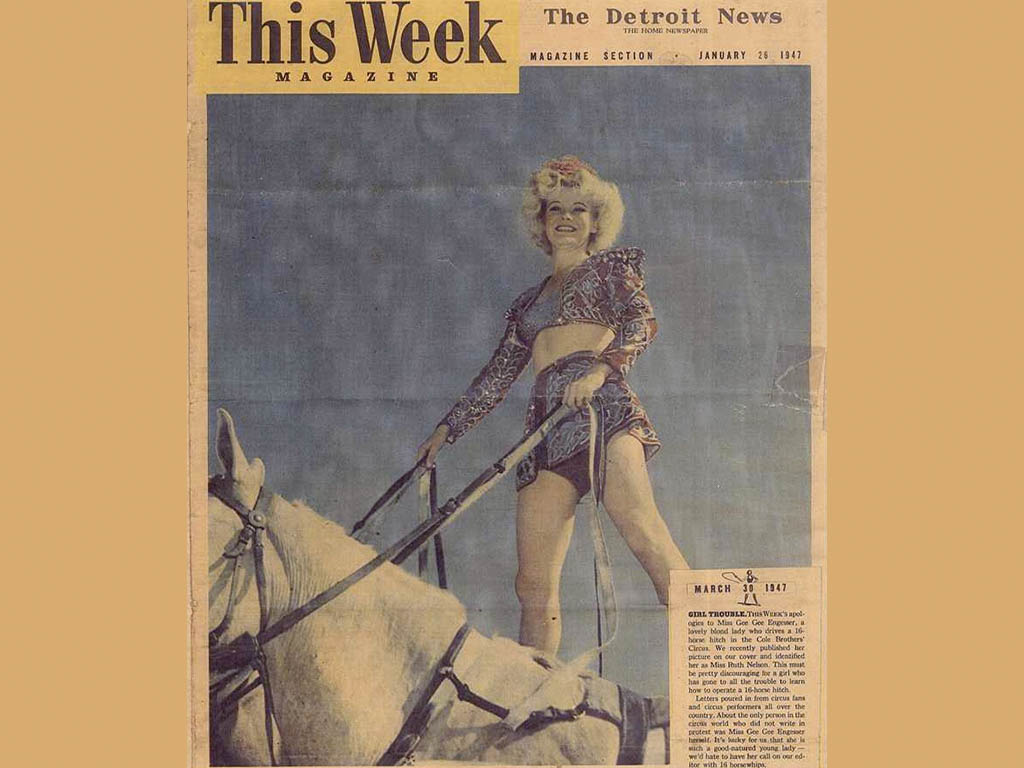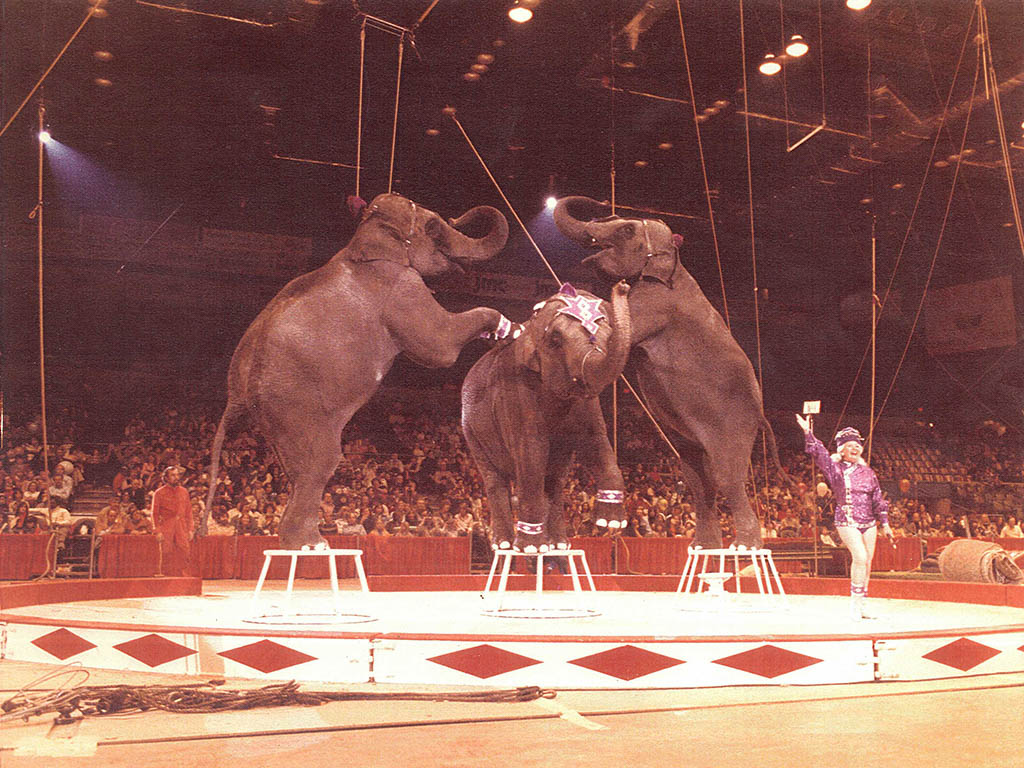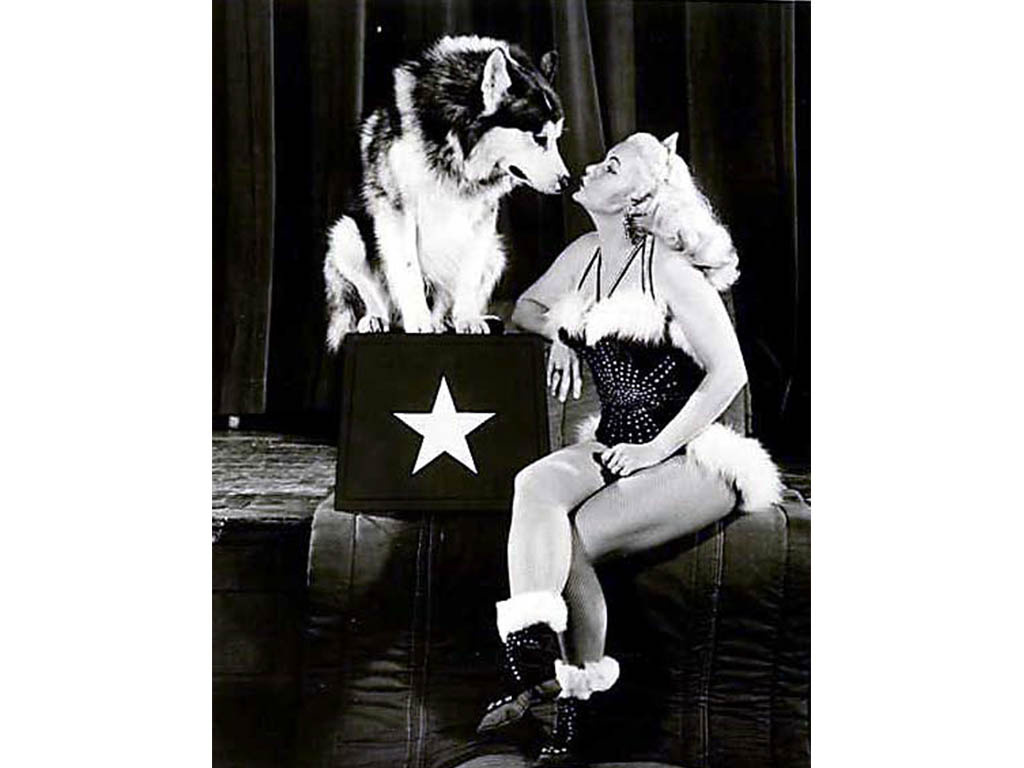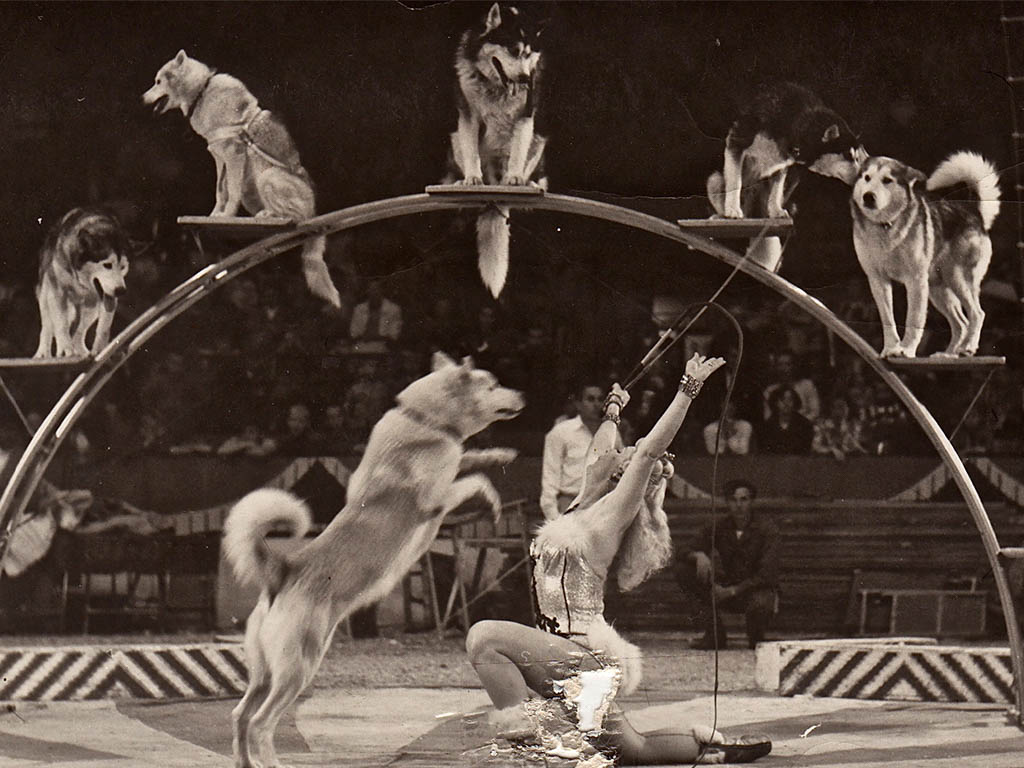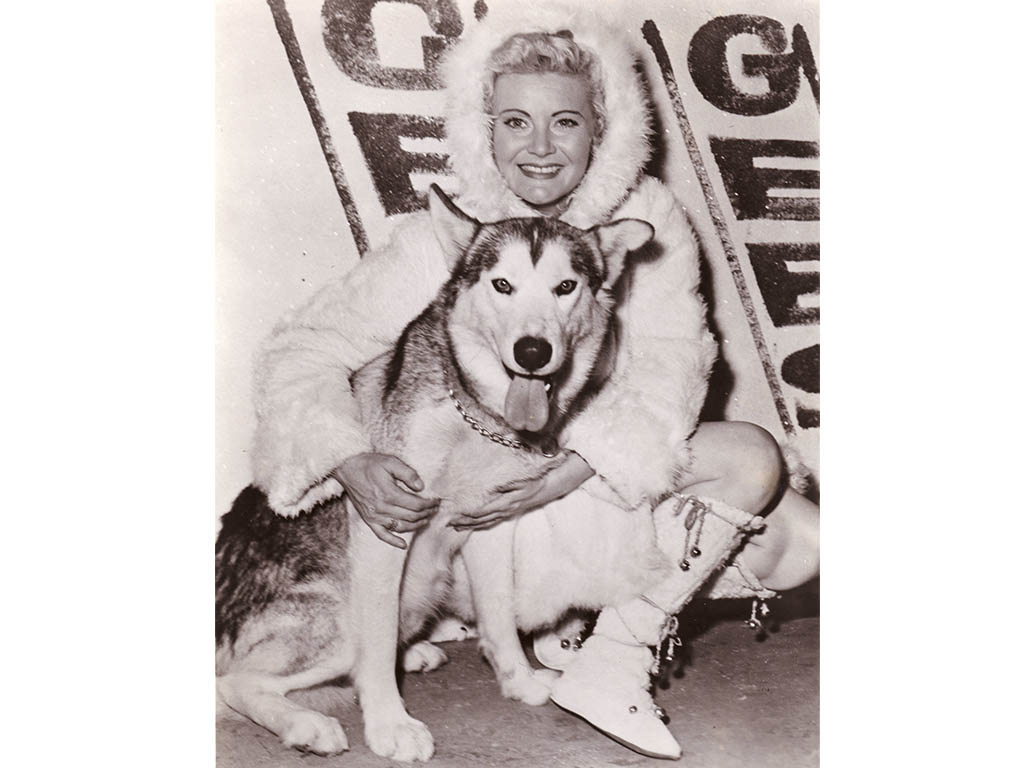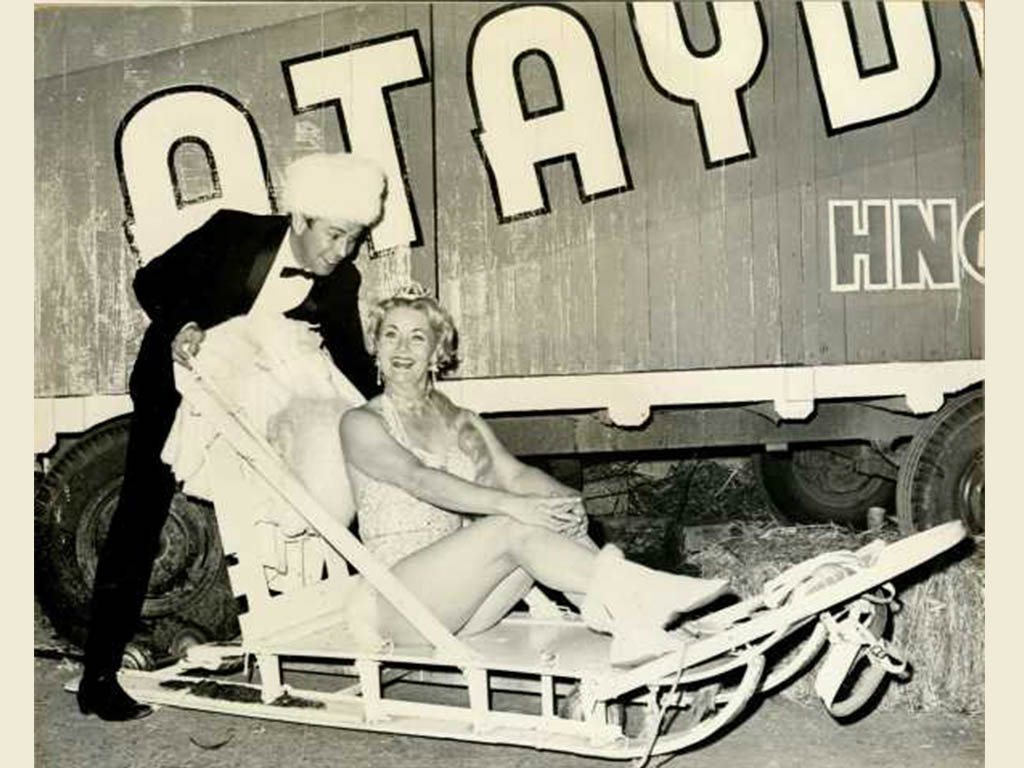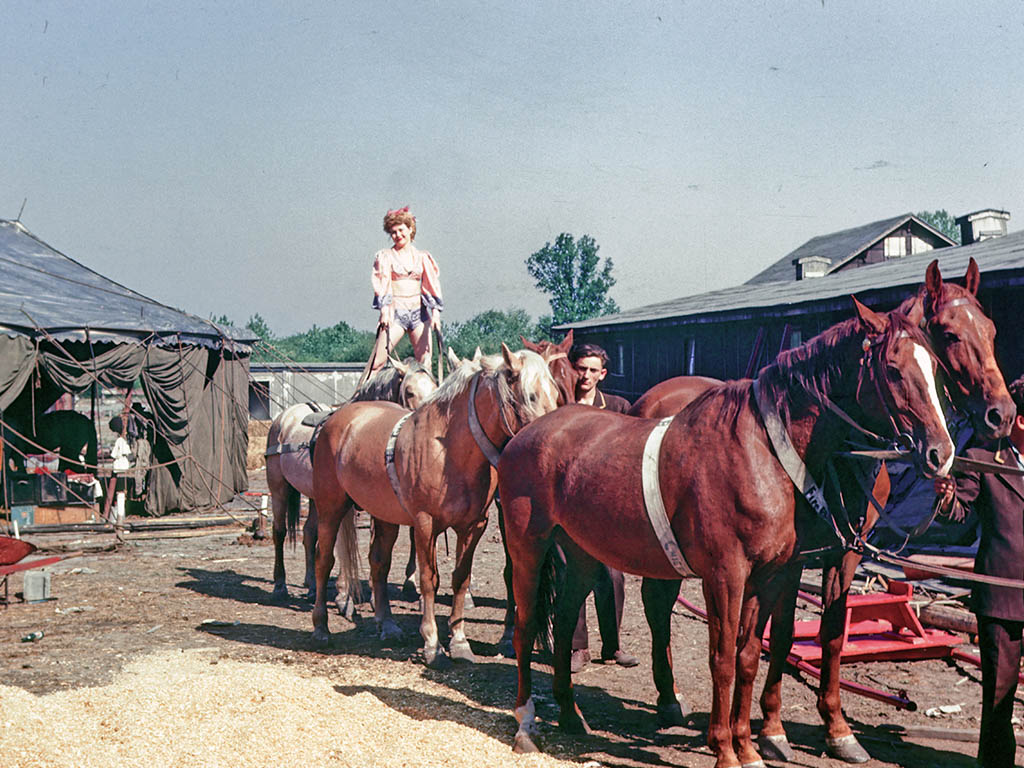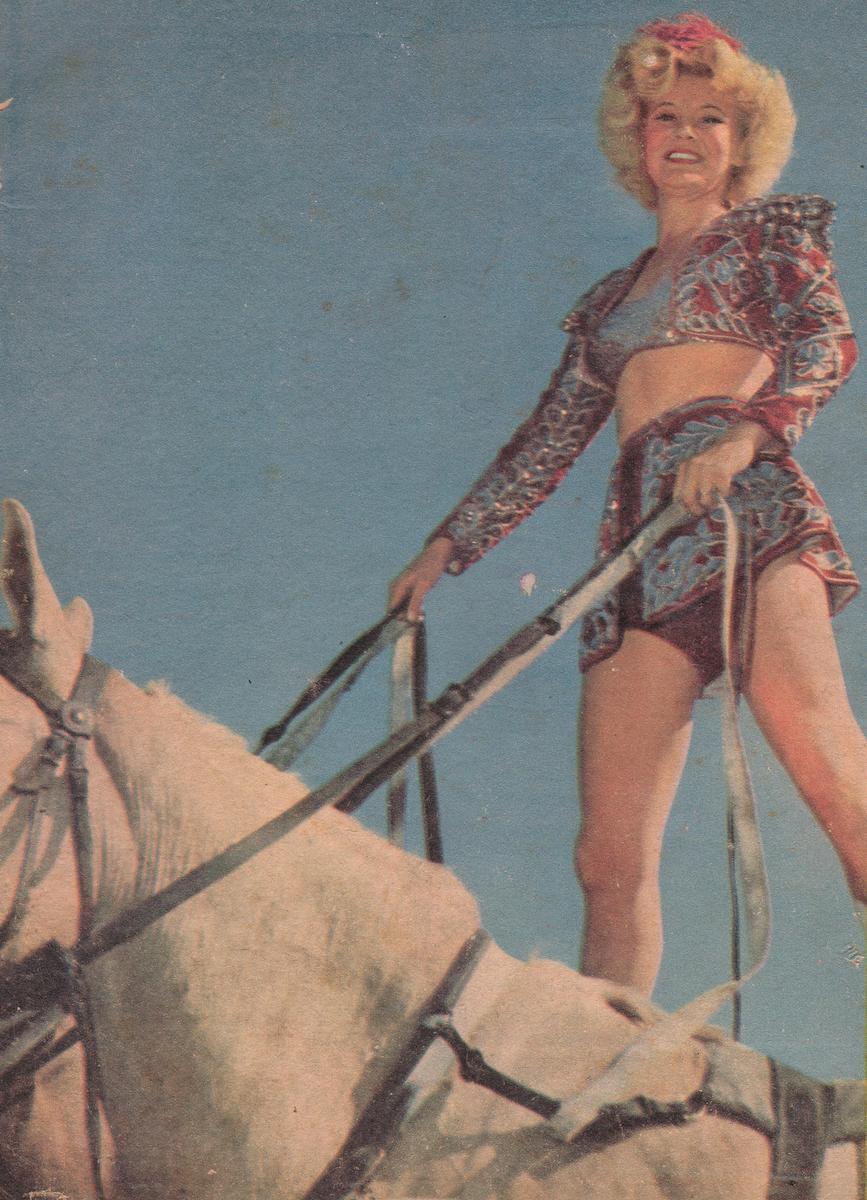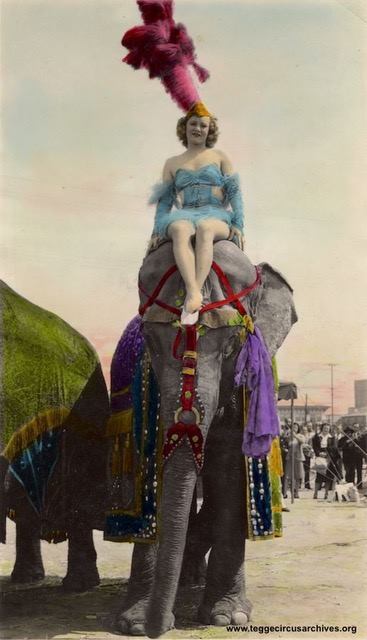 Gee Gee Engesser The Blond Bombshell of the Circus World A Biographical Snapshot:
Gee Gee Engesser was born into the circus business and mastered a wide array
of talents; from training arctic sled dogs to the great Asian elephant, she
was a natural at whatever she accomplished.
When asked about her life Gee Gee noted three factors that defined her work. She was first and foremost a
circus artist, animal lover and trainer of many different species. Second,
she was a fiercely independent woman who raised a family, owned a business
and sent her son to college while performing – long before "women's
lib" was even on the horizon. Third, she was a passionate advocate for
"genuine animal welfare" and the rights of humans and animals to
work together. It was this magical combination of heritage and hard work that
made Gee Gee Engesser a one-of -a-kind for the history books.
Early Years:
Born Georgedda Zellmar Engesser on August 6, 1926 in St. Peter, Minnesota,
the middle daughter of George Edward Engesser and Vates Lola Swenson, she was literally
raised in the circus.
George and Vates were vaudevillian performers and
owners of traveling repertory shows and circuses. At one time in the mid
1920's the Engesser Family owned and operated six traveling theatre
shows and Schell Bros/Zellmar Bros. Circuses. To young Gee Gee this was her
playground and early circus education. It was on this backdrop that Gee Gee
grew up. At the age of three, she performed swinging aerial ladders and acts
with elephants and ponies on her parents' circus.
During her early teens she performed with dogs, goats and learned trick riding and roman
riding on Barker Bros., Attabury Bros and Kelly Miller Bros. shows. During
this time she also served the civilian war effort making toys for children of
military families during World War II. The Incredible 16 Horse Roman Riding
Hitch: In 1945, at the age of 18 Gee Gee joined the great Cole Bros. Circus
as a featured equestrienne.
While on Cole Bros. she performed jumping horses,
ménage horses, swinging ladder and rode with the Loyal Repenski
bareback riding act. However, her greatest accomplishment was riding the
difficult and daring 16- horse roman post hitch. Standing astride two horses
hitched to 14 in front she raced around the hippodrome track at breakneck
speed thrilling young and old alike. To this day she is one of a handful of
people to successfully master this feat. In doing so, she became know as the
blond bombshell of the circus world and received national media attention
culminating with a full-page cover photo on This Week Magazine (the
predecessor of Parade Magazine ).
In 1946, she met and married Bill Powell
Sr., an accomplished center ring wire walker, and they toured and performed
together on the Cole Bros., Cristiani Bros., Daily Bros, and Clyde Beatty
Circuses.
The Alaskans:
In 1951, her son Bill Jr. was born while she was busy
preparing for her next uncharted venture. Alaskan malamute sled dogs and
arctic wolves had always fascinated Gee Gee. After doing extensive research
on sled dogs she reasoned that they potentially could become a great attraction.
There were three problems; these animals were large, possessed
vicious temperaments and were considered largely untamable in a circus act
setting.
Not to be discouraged she personally selected eight large
Malamute/Wolf mixture pups and hand raised them for over two years during the
training process. The results were nothing less than spectacular. The animals
large size (up to 120 lbs.) and aggressive nature combined to make an explosive
presentation that captivated audiences nationwide. From 1953 until 1970
"Gee Gee's Alaskans" toured as the feature
attraction on every major sports and recreation exposition and Shrine Circus
engagement in America.
She also toured and performed the Husky act with Gil
Gray/The Show Beautiful, Clyde Bros., Tom Packs, Cowboy movie star Gene
Autry's stadium spectaculars, Pollack Bros. and Atayde Bros. in
Mexico City. She was also featured on the television shows What's
My Line and You Asked for It.
Her image, a fur clad beautiful blond
bombshell posing with Alaskan Huskies, graced covers of numerous of major
newspapers around the country. But this was only the beginning.
Lions and Tigers and Bears and More: In 1968, Gee Gee married her second husband,
elephant trainer Robert "Bucky" Steele, and together they
acquired 6 elephants, 12 mixed cats, 6 black bears and 12 white Willmar
ponies. For the next ten years they toured Gatti Charles, Hamid Morton,
George Matthews Great London circuses and numerous major indoor Shrine dates.
In 1970, Gee Gee and husband Bucky's five elephants were featured
performers in the Disney television movie Runaway on Rogue River/The Great
Elephant Chase , starring Slim Pickens and Willie Aames. In 1986, her
mastodon clad elephants were featured in another major motion picture, Quest
for Fire .
Upon retiring from active performing in 1983, she turned to
producing a circus in Montreal, Quebec at Parc Safari, a well known theme
park in Canada. It was during her tenure at Parc Safari that she conceived a
totally new live theatrical animal attraction when A Town Called Justice
debutedin 1987. As the producer of "Justice" she combined
the best elements of musical theatre, circus acts, movie stunts and animal
attractions. This unique blend of animals and musical theatre ran
successfully for seven years to standing room crowds at Parc Safari.
Giving Back:
In 2002, Gee Gee Engesser opened yet another new chapter in her life
long dedication to the circus. She organized the first recognized charitable
event for animal and circus industry causes at Ringling Bros. and Barnum
& Bailey's dress rehearsal in Tampa, FL. As a result of her
efforts, she raised approximately $75,000 for a variety of pro-circus animal
organizations including the International Elephant Foundation, the Outdoor
Amusement Business Association and other worthy causes.
Awards and Recognition: In 2007 Gee Gee Engesser was inducted into the John and Mable
Ringling Museum of Art as Circus Celebrity. She was one of 30 circus artists
worldwide to receive this recognition. In 2008 Gee Gee received one of the
highest honors in the circus arts with her induction into the Circus Ring of Fame on
Sarasota's historic St. Armand's Circle.
Gee Gee Engesser passed away July 15, 2008 seven months after her induction. She was just
three weeks shy of her 82 nd birthday. For over eight decades she personified
the circus and remained active in promoting the circus arts to the rest of
the world.
Personal:
Unique among circus performers of her era Gee Gee
Engesser stressed higher education to her family and encouraged her son to
attend college instead of performing. Gee Gee continues to be an inspiration
to all who knew and loved her. She is survived by her son William Wright
Powell, a successful live entertainment executive and Chair of the Circus
Ring Of Fame Foundation, grandson Cory Powell, a MBA graduate at the
University of South Florida and daughter in law Sherry Powell, President and Chief
Marketing Officer (CMO) of the Florida Orchestra.