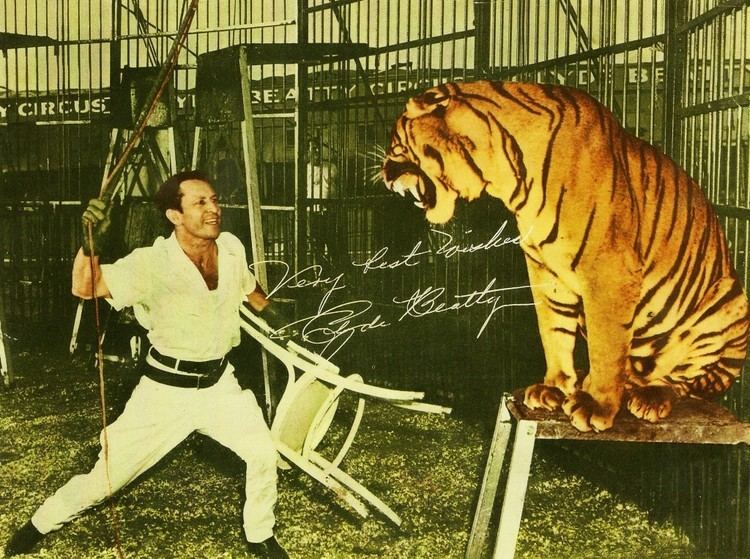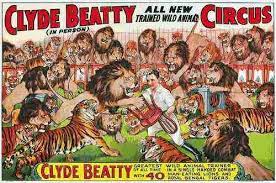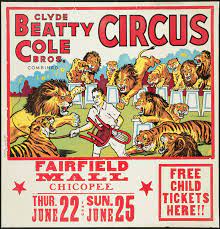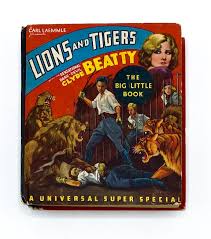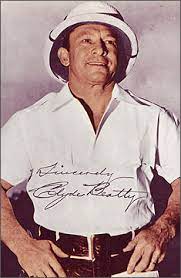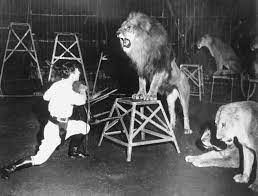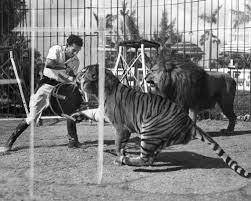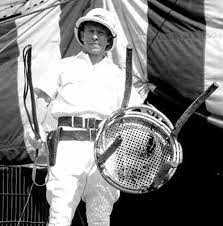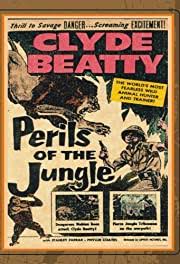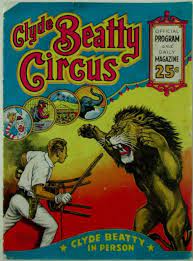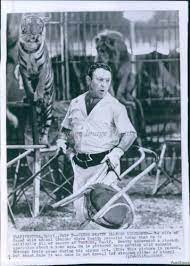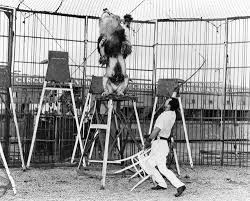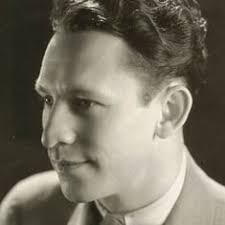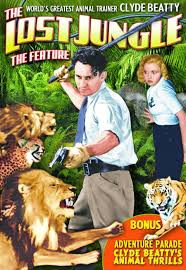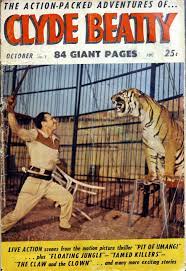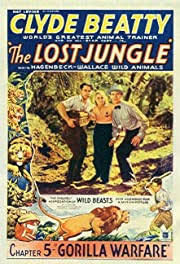 Clyde Beatty
From Wikipedia, the free encyclopedia
Jump to navigationJump to search
Clyde Beatty
Clyde Beatty in The Lost Jungle (1934).jpg
Beatty in The Lost Jungle (1934)
Born June 10, 1903
Bainbridge, Ross County, Ohio, U.S.
Died July 19, 1965 (aged 62)
Ventura, California, U.S.
Resting place Forest Lawn Memorial Park, Hollywood Hills
Occupation
Lion trainerperformeractorcircus owner
Years active 1921–1965
Spouse(s) Earnestine Pegg
​
​(m. 1926; div. 1932)​
Harriett Evans
​
​(m. 1933; died 1950)​
Jane Abel
​
​(m. 1951)​
Children 3
Clyde Beatty (June 10, 1903 – July 19, 1965) was a famed animal trainer, zoo owner, and circus mogul. He joined Howe's Great London Circus in 1921 as a cage boy and spent the next four decades rising to fame as one of the most famous circus performers and animal trainers in the world. Through his career, the circus impresario owned several circuses, including his own Clyde Beatty Circus from 1945 to 1956.[1]
Clyde Raymond Beatty was born on June 10, 1903, in Bainbridge, Ross County, Ohio, the eldest of nine children. He graduated from nearby Chillicothe High School, but had already succumbed to the world of the circus. On August 16, 1921, at dawn, he and Howard Smith clambered into a boxcar on the DT&I Railroad, bound for Washington Court House, Ohio, and joined Howe's Great London and Van Amburgh's Wild Animal Circus. His first and certainly influential boss was the legendary wild animal trainer Louis Roth. Next, he came under the tutelage of another great trainer, John "Chubby" Guilfoyle. By 1923 Clyde was working small mixed groups of big cats to start 42 uninterrupted seasons in the steel arena.[2]
Beatty became famous for his "fighting act", in which he entered a cage with wild animals with a whip and a pistol strapped to his side. The act was designed to showcase his courage and mastery of wild beasts. Through his career Beatty trained hippos, polar bears, brown bears, lions, tigers, cougars, and hyenas; sometimes, many brought together all at once in a single cage in a potentially lethal combination. At the height of his fame, the act featured as many as 43 lions and tigers of both sexes, for which Beatty still holds a world record for.[3] and Beatty had his own rail car in the 35-car circus train.[4]
oung Clyde's self-confidence and unabashed theatrics swiftly catapulted him to circus fame. Within merely a decade, the name Clyde Beatty became synonymous with the best and most exciting wild animal training ever seen under the Big Top![5] There have been suggestions that Beatty was the first lion tamer to use a chair in his act,[6] but in an autobiographical book he disclaimed credit for this practice: "It was in use when I was a cage boy and had been used long before."[7]
Beatty's fame was such that he appeared in films from the 1930s to the 1950s and on television until the 1960s.[8] He was also the star of his own syndicated radio series, The Clyde Beatty Show, from 1950 to 1952.[9] The weekly programs featured adventures loosely based on his real-life exploits. The stories were no doubt more fictitious than real, and Beatty actually appeared in name only; Vic Perrin (not identified as such to the radio audience) impersonated him on the show.
Beatty's "fighting act" made him the paradigm of a lion tamer for more than a generation. He was once mauled by a lion named Nero and was in the hospital for ten weeks as a result of the attack. However, he remained undaunted and faced down Nero in a cage for the 1933 film The Big Cage.[10]
At the height of Beatty's fame, a caricature of Clyde, drawn by Alex Gard, was displayed at Sardi's restaurant in New York City and is now part of the Billy Rose Theatre Collection at the New York Public Library.
In 1957, Beatty performed his act on The Ed Sullivan Show; he had complained during rehearsal that the stage was too small and unsafe for his act, but Sullivan convinced him to perform anyway. During the act, Beatty lost control of the act. To prevent the home audience from realizing the live performance had gone awry, Sullivan went into the audience to introduce some of the celebrity attendees. Luckily, Beatty was able to subdue the lions by firing blank cartridges, without injury to himself or the lions. A clip of the performance is included in a DVD of the best of the Sullivan show.[11]
Beatty married Harriett Evans (her name is often printed as "Harriet"), an aerialist, on September 16, 1933.[7] The marriage lasted until her death in 1950 in Kosciusko, Mississippi, reportedly from a heart ailment.[12] Their union seems to have been founded on a great deal of team spirit, and after a year or so she insisted on being trained as an animal trainer herself, which was highly unusual for a woman in those days. Beatty let her have an act in 1935, and she did well, proving to be popular with the public and the press.[7] Her daughter Albina (born 1931), having learned animal training skills from her step father and mother, followed in their footsteps as a lion trainer. She stated that Beatty's teaching gift to her was understanding his instincts regarding the animals and how best to control them.
Beatty died of cancer in 1965, at age 63, in Ventura, California, and was interred in the Forest Lawn–Hollywood Hills Cemetery in Los Angeles.
A museum has been opened in Clyde's hometown of Bainbridge, Ohio celebrating the life and times of the circus mogul.[1]