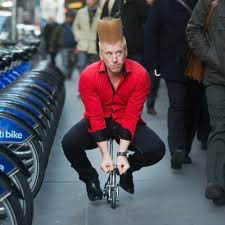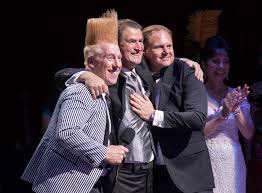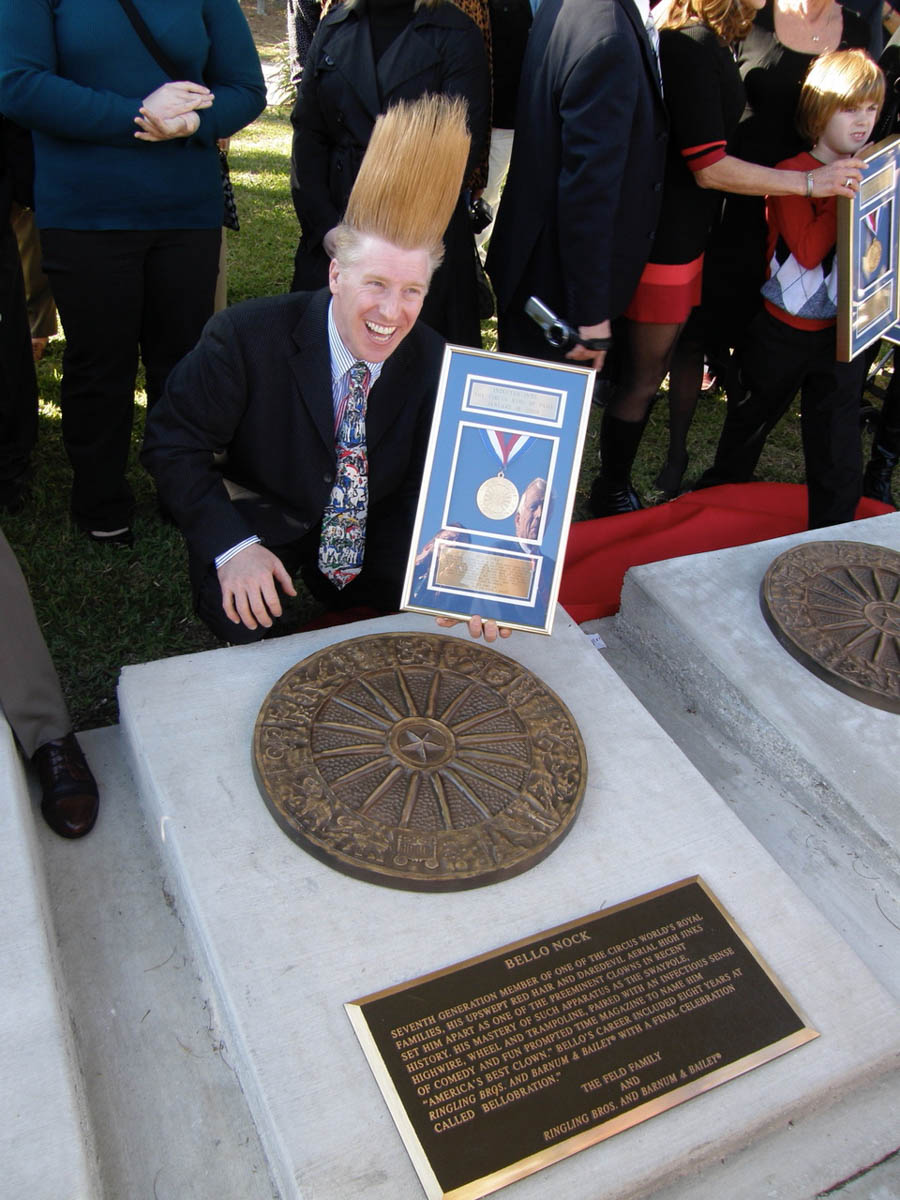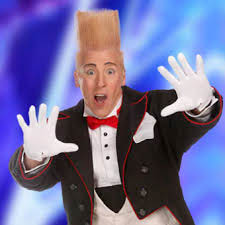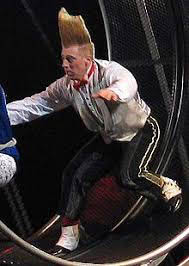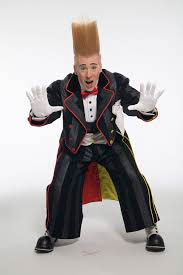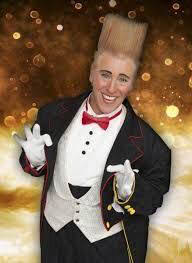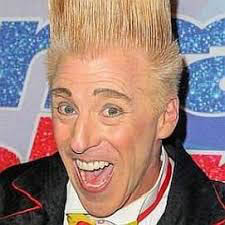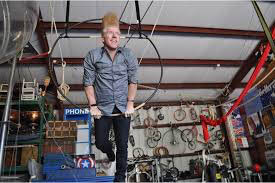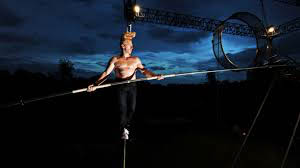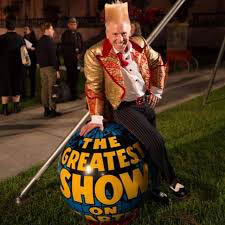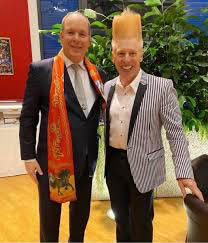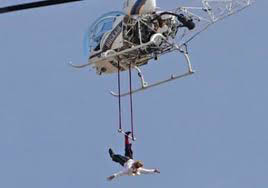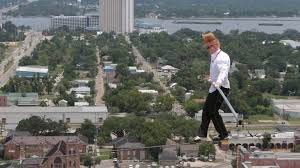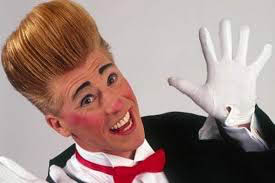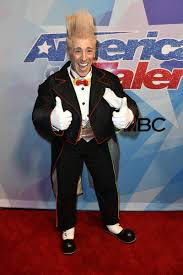 Bello Nock (born September 27, 1968), often known simply as Bello , is an American clown and circus performer.
Nock has been featured in the Guinness Book of World Records for his highwire walk over a cruise ship. He has performed several stunts in New York City , including rappelling off of Madison Square Garden and hanging from a helicopter over the Statue of Liberty . [1] Although he performs without the traditional clown makeup, Nock's signature look revolves around his foot-tall, strawberry blond quiff .
He was included in Time Magazine's list of "America's Best Artists and Entertainers, [2] and his theater show, Bello Mania , was nominated for a Drama Desk Award .
Early life Born in Sarasota, Florida , Dimitrios Alexandros Claudio Nock is a seventh-generation circus performer, an American of Swiss and Italian ancestry. A descendant of the family that founded Switzerland's Circus Nock in the 18th century, [3] Nock began performing at age three, playing the baby on the burning house in Disney on Parade's "Dumbo's Circus". At six, Nock played Michael Darling in the touring version of Peter Pan with Cathy Rigby.
[4] Bello first performed his family's trademark sway pole act at the age of 15. He performed with his family all around the world. Career 2000–2008: Beginnings and Ringlings Bello was the featured artist in Mexico's Circo Atayde before joining New York's Big Apple Circus , where he became the star attraction in 2000. Bello completed three tours with the Big Apple Circus, the last being Bello and Friends .
While with the Big Apple Circus, Bello also attended the International Circus Festival of Monte-Carlo , where he won five awards, including the Silver Clown (presented by Princess Stéphanie of Monaco ) and the Walt Disney Award for Creative Entertainment. In 2011, Bello won the Gold Clown.
In 2001, Nock joined Ringling Bros. and Barnum & Bailey Circus as their headliner. Bello completed four tours with Ringling Bros., the last being Bellobration . Nock was the first person in Ringling's 146-year history to have a production named after him. Producer Kenneth Feld said Bello: "is unlike anyone in the history of circus, a once in a lifetime performer…" In 2001, Time Magazine included Bello in their list of "America's Best Artists and Entertainers", calling him "America's Best Clown".
Nock calls himself a comic daredevil. He is known for his foot-tall, natural red hair and his unique combination of comedy and circus stunts. In 2004, the Daily News said that Nock "might be the greatest athlete ever to set foot in the World's Most Famous Arena" [5] (Madison Square Garden). Nock also designs and builds stunts and riggings. In March 2007, The New York Times presented a two-page, full-color feature on Nock's Double Wheel of Steel . Bello performed live in approximately 500 shows for 5 million people a year while with Ringling Bros. He performed there for a total of eight years; often with three shows on Saturdays and Sundays (during the 131,133rd and 135th Editions); he had no understudy or stunt double. Nock also hung on a trapeze under a helicopter over the Statue of Liberty while with Ringling. 2008–2013:
Bello Comes Home, Bello is Back! , and Bello Mania In November 2008, Bello left Ringling Brothers. He went to Europe to perform for several months and then came home to perform in the aptly titled Bello Comes Home with Circus Sarasota. In the fall of 2009, Nock walked a highwire over the Lincoln Center in New York City to announce his return the Big Apple Circus for their 32nd production, Bello Is Back! In 2009, Bello was the youngest person ever inducted into the Circus Ring of Fame.
In 2011, Bello won the prestigious Gold Clown at the International Circus Festival of Monte-Carlo . He was featured in the 2013 edition of Guinness Book of World Records for a highwire walk across the entire length of a cruise ship at sea. March 2013 the stage production Bello Mania made its theatrical debut in New York City. Bello served as creative director for the show and provided all thrill acts and thrill performers. The self-produced show was nominated for a Drama Desk Award .
In November 2013, the Rainbow Circus presented at Universal Studios Japan was awarded IAAPA 's Brass Ring Award for "Best Show". 2013–present: "The Ultimate" Stunt and America's Got Talent A YouTube video of Bello hanging from a helicopter by one foot ("man hangs by helicopter") has received tens of millions of views. On December 5, 2013, Bello performed as a guest playing guitar with Cheap Trick in Sarasota, Florida, at the Van Wezel P.A.H. to a standing ovation. [6] Bello has starred in several cirque-style shows during the summer season at the Beau Rivage casino resort in Biloxi, Mississippi .
On June 3, 2014, Bello announced he would attempt "The Ultimate" stunt – 15 death-defying stunts in under 15 minutes. He made the announcement on Good Morning America while balanced on a highwire above Times Square , and then proceeded to set a world record by staying balanced on the wire for a full eight hours of media interviews. During the summer of 2014, Bello continued his training for The Ultimate. On June 6, 2014, he practiced with a wire walk across the iconic Rose Bowl Stadium – even stopping to take selfies and live tweet from his phone. The stunt has not been performed as of 2019. In 2015, Bello was part of the 100th episode of the American reality television series Impractical Jokers , "Live Punishment Special" . [ citation needed ]
In the summer of 2017, the IncrediBello stage show was presented at the Historic Asolo Theater in Sarasota, Florida . On June 20, 2017, Bello auditioned for America's Got Talent and performed atop a sway pole. For his next performance during the Judge Cuts round, Bello shot himself out of a cannon and over a helicopter, successfully completing the stunt. Although he was eliminated during Judge Cuts, Bello was brought back for the first week of the live shows as a wild card, performing on the Wheel of Death . On June 19, 2018, his daughter, Annaliese Nock, auditioned for the show and was sent through by the judges. [7]
In the spring of 2019 Bello performed on World's Got Talent in China. The program broadcast was viewed by nearly 200 million viewers. He also took part in Britain's Got Talent: The Champions , together with daughter, Annaliese, where they reached the finals and finished in the Top 10. [ citation needed ] Personal life Nock's wife of many years, Jennifer Nock, also serves as his manager. They have three children together including Annaliese Nock. Nock is a born-again Christian . [8] [9]